Petrobras import of US condensate help address refining shortage, but faces tax controversy in Brazil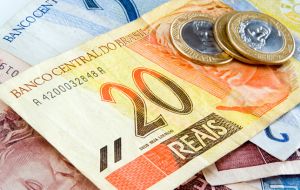 Petrobras' move to start buying processed U.S. condensate will help output at its domestic refining network, but the purchases have exposed a wrinkle in Brazilian law that could allow the state-run company to import the light oil duty-free, tax lawyers and traders said. Typically, condensate is considered a very light form of crude found in oil or natural gas wells and in raw form is not taxable in Brazil.
But condensate arriving from the United States could be subject to Brazil's CIDE levy because it has been partially processed, they said.
The concept of lightly processed condensate is peculiar to the United States. It arose last year as a way for U.S. producers to have it classified as a refined product to circumvent a decades-old ban on domestic crude exports. With U.S. condensates shipments now hitting the export market, they are causing headaches for bookkeepers in the United States and Brazil.
"The definition of condensate is not easy," a spokeswoman for Brazil's tax authority commented. The spokesperson said how the substance is taxed also depends in part on whether the condensates are used to make gasoline or diesel.
Petrobras started importing U.S. condensate in May with a 636,000-barrel-cargo, becoming the first Latin American buyer of it. Two more cargoes were bought since then. So far, those condensate cargoes appear to have entered Brazil classified as crude oil, according to its government's data.
"This type of thing is quite common in the industry," an oil trader and former Petrobras trading official said, adding that tax rules across different jurisdictions can complicate trades.
Brazil's oil regulator, the ANP, issued no licenses for the import of condensate in May, June, July or August for the ports where the cargoes were discharged, according to the registry on its web site.
It also did not issue any import licenses recently for natural gas liquids, which can include condensate, at the ports where the cargoes landed, the web site showed. At the same time, it granted many licenses to import crude.
A Petrobras spokesperson said the company had not asked to change the classification of the cargoes. The company did not comment when asked if taxes were paid on the cargoes.
The tax authority spokesperson declined to comment when asked whether or not Petrobras paid CIDE tax on the cargoes, citing the country's tax secrecy law. The tax savings from bringing in processed condensate as crude would be considerable.
CIDE taxes for Petrobras for the three recently bought cargoes would run as much as 25.3 million reais ($6.74 million) based on current levies, average prices for condensate, and their volumes, according to vessel tracking data.
The U.S. Energy Information Administration, after initially counting the cargoes as crude, said this month condensate that went to Brazil in July was processed and came from natural gas fields. To avoid the problem in the future, it recommended updating U.S. export statistic codes to create one specifically for processed condensate.
Petrobras has outstanding tax disputes with Brazilian governments that currently exceed 90 billion reais ($22.9 billion). It has also struggled with a corruption scandal involving kickbacks on construction contracts.
The federal government raised the CIDE levy this year to help plug a fiscal deficit.
Brazil has a growing need for condensate to make blends or run at its refineries, which are largely supplied with heavy and medium crudes that make up the bulk of Brazilian oil output. It also lost a major source of condensate in February after an offshore oil platform exploded, killing nine in the Camarupim oil and gas field. The field was rich in raw condensate.