Argentine women are the most fluent English speakers in Latin America
Thursday, November 5th 2015 - 06:35 UTC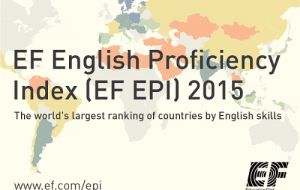 Argentines are the most fluent English-speakers in Latin America according to the EF English Proficiency Index 2015 report — a study that analyzes the State of Worldwide English Proficiency. Globally the country came in 15th place out of the 70 countries that participated in the study, which uses test data from 910,000 adults.
Although first place went to Sweden, as it earned 70.94 points according to the English Proficient Index point system used, Argentina was well ahead of its neighbours with a 60.26 point score that is considered a high level.
Argentine women scored higher than their male counterparts, as they scored 59.66 in comparison to the men's 57.66. Although Argentina continued to top the regional English proficiency ranking that has existed for the past five years, it did not move up in the global rankings.
The Index shows Peru, Chile, Ecuador, Mexico, Brazil, Costa Rica and Uruguay as following Argentina in the Latin America rating.
The EF report highlighted that while Latin America has continued to improve its English fluency, the English ability of adults continues to be low compared with the rest of the world. Of the 14 Latin American countries included in the index all except one improved in comparison to last year.
Despite the low English levels, the study found encouragement in the government programs being implemented across the region to improve English fluency, many of which have been created in the past three years. It highlighted that many Latin American politicians have promised to add additional English teaching programs, but that it was still too early to determine the impact of these promises.