Falklands/Malvinas soldiers' remains: Argentine delegation meets Red Cross chief
Saturday, November 7th 2015 - 07:08 UTC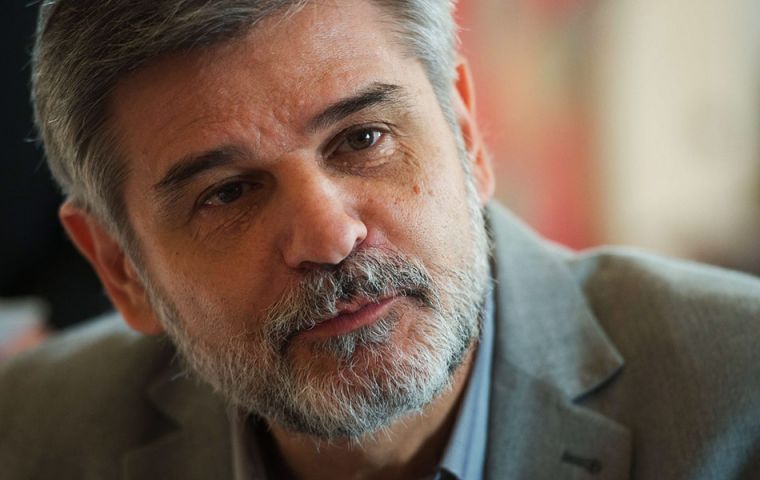 Argentina's Foreign Ministry Secretary for Malvinas affairs Ambassador Daniel Filmus, and Argentine ambassador before international organizations in Geneva, Alberto D'Alotto, met on Thursday with the President of the International Committee of the Red Cross (ICRC), Peter Maurer, to address the issue of identifying the remains of 123 soldiers Argentine fallen during the South Atlantic conflict in 1982 and buried in the Argentine cemetery at Darwin, in the Falkland Islands.

According to the official Argentine release, at the meeting in Geneva, Argentine representatives reiterated the request made by President Cristina Fernández, in 2012, for the Red Cross to collaborate in the identification process of the remains. Likewise they thanked the Red Cross for helping with the DNA samples which Argentine specialists took from the next of kin of fallen soldiers, which are intended to facilitate the work of the forensic anthropology team.

The President of the ICRC expressed optimism about the expected process progress following an earlier meeting, last Monday, with the British counterpart and a representative from the Falklands' government, MLA Mike Summers.

Mr. Maurer also reiterated the Red Cross willingness to facilitate the exhumation and identification process of the remains at Darwin cemetery. The head of ICRC pointed out that the next step, in case of agreement with the British and Falklands' counterpart, would be to send a Red Cross technical assessment mission to prepare, on the field, for such activities deployment.

Filmus stressed the strictly humanitarian nature of the work and requested the possibility that the task could be started next summer, taking into account that 32 years have elapsed since the families' demand to know the fate of their beloved ones. The Argentine delegation also handed Mr. Maurer a copy of the technical work proposal that the Argentine Government sent to Britain last February.

The meeting concluded with Mr. Maurer's commitment to address the whole issue in a transparent manner so that the best possible result can be achieved in the shortest time possible.