Brazilian economy forecasted to contract 3.10%, says central bank survey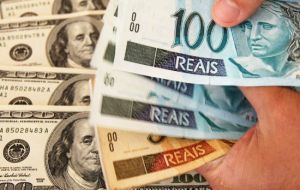 Brazil's economy will contract by 3.10% this year, with the inflation rate hitting 9.99%, the Central Bank said Monday, citing its weekly survey of private sector economic analysts. Last week, analysts said they expected Brazil's economy to contract by 3.05% this year and the inflation rate to be 9.91%.
The gross domestic product and inflation estimates come from the Boletin Focus, a weekly Central Bank survey of analysts from about 100 private financial institutions on the state of the national economy.
Analysts also revised their 2016 estimates downward, saying they expect Brazil's GDP to contract by 1.90% in 2016, with inflation falling to 6.46%.
If the forecasts prove to be accurate, Brazil's economy is headed for its worst economic performance since 1990, when it contracted by 4.35%, and will register two consecutive years of negative growth for the first time since 1948.
Analysts have become increasingly pessimistic over the past 17 weeks as Brazil's economy has slowed and the government's fiscal adjustment measures have failed to fix growing budget woes.
Analysts' forecasts are also turning gloomier with regard to inflation in both 2015 and 2016, with prices expected to end this year with the biggest surge since 2002, when the consumer price index rose 12.53%.
The government expects inflation to end the year within its target range of 4.5%, with a 2 percent band that would put the top end rate at 6.5%. Brazil finished 2014 with an inflation rate of 6.41%, while the economy grew just 0.10%.
In releated news Brazil spent more than $1bn defending the local currency Real last Friday after a knock-out US jobs report sent the dollar soaring, central bank data revealed on Monday.
The October jobs surge, which sharply fuelled expectations that US policymakers will raise interest rates next month for the first time in nine years, prompted the Real to fall by as much as 1.6%.
But central bank intervention, to the tune of $1.067bn, helped reverse that loss in dramatic fashion and the real ended the day 0.3 per cent higher, even as every other major currency fell deep in the red against the greenback.