OECD lowers global growth estimate; sharp downturn in emerging markets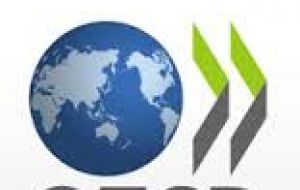 A further sharp downturn in emerging market economies and world trade has weakened global growth to around 2.9% this year – well below its long-term average – and is a source of uncertainty for near-term prospects, the Organization for Economic Co-operation and Development (OECD) said on Monday.
In its latest twice-yearly Economic Outlook, the OECD projected a gradual strengthening of global growth in 2016 and 2017 to 3.3% and 3.6%, respectively, but said any pick-up would require a smooth rebalancing of activity in China and more investment in advanced economies.
In September, the OECD forecast global growth to be 3.0% this year, trimming estimates it made in June for 3.1%.
Although advanced economies had been resilient so far this year, the OECD said that weak global trade had centered on the emerging markets in 2015 and that China's slowdown was "at the heart of this."
"China's transition from infrastructure investment and manufacturing and towards consumption and services is one important reason for the decline in commodity prices, and may be reducing its role in global value chains as well."
Economic growth in China is projected by the OECD to slow to 6.8% in 2015 and to continue to decline gradually thereafter, reaching 6.2% by 2017.The organization said that global trade weakness – which it called "deeply concerning" –-could be a harbinger of slowing global GDP growth.
"Many economies, especially the emerging markets, face financial challenges, as well as a weaker outlook for their exports," the OECD cautioned.
"Robust trade and global growth go hand in hand. Trade strengthens competition, keeping domestic firms fit and prices low, and expands variety for consumers and businesses…World trade has been a bellwether for global output. The growth rates of global trade observed so far in 2015 have, in the past, been associated with global recession."
In the run up to the COP21 United Nations Climate Change conference in Paris at the end of this month, a special chapter of the OECD's outlook was dedicated to the subject of climate change.
The organization called for "unequivocal action to address climate change" which it said was "critical for long-term economic sustainability and healthy growth."
OECD called for effective pricing of greenhouse gas emissions and more regulation surrounding those emissions – most climate policies could be, it said, "budget-neutral and support growth."
"There are plenty of examples of countries that have taken action successfully without negative consequences. An effective policy stance would create a more positive environment for investment that would support growth and trade, as well as put us on a path to urgently-needed climate improvement."