Argentine agro-business shares booming on presidential candidates' pledges
Wednesday, November 11th 2015 - 07:25 UTC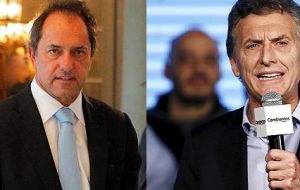 Argentina's agro-business shares are booming in the Buenos Aires stock exchange since 26 October, following the first round of the presidential election, and expectations are even greater on the promises from the two candidates that will be disputing the runoff on 22 November.
In effect both incumbent Daniel Scioli and his opponent Mauricio Macri have promised that once they take office on 10 December, if elected, they will significantly reduce export levies on soybeans and eliminate those implemented on wheat and corn.
To this must be added the implicit announcement that restrictions on the foreign money exchange (dollar clamp) will be eliminated, either gradually or in one blow, depending on the candidate, plus making more flexible the export of food commodities.
According to the Merval records, five of the leading groups in the Argentine agro-business have seen their shares increase between 18.6% and 65.7%, compared to quotes on Friday 23 October. This includes one of Argentina's main farm machinery complex.
"It was positive for the industry, particularly those which will benefit from the elimination of export levies, plus an only money exchange market and the anticipated exports' flexibility" said Leonardo Chialva from Delphos Investment. However while the mills may benefit immediately, other companies will see the effects on a medium term.
"Changes are in the air, but it won't be an open cheque", warns Chialva.
"If agriculture recovers there are very good prospects for Argentina; if we realize we can become the natural supplier so proteins to China and India, this will be an upside turn for the camp", concluded the Delphos analyst.