Petrobras striking workers consider salary offer but insist the company must reverse investment cuts
Thursday, November 12th 2015 - 08:07 UTC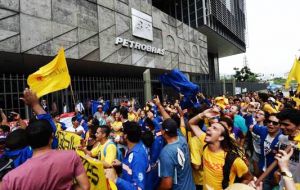 Brazil's energy giant Petrobras offered striking workers a 9.54% wage hike on Wednesday in an effort to end a 10-day strike and prevent it from causing further production losses. But union officials said the deal makes almost no concessions on their most important demands. These include calls on Petrobras to reverse investment cuts and block planned assets sales designed to reduce Petrobras' debt.
At more than $130 billion, the company's debt is the largest in the oil industry. The strike, which has cut output from oil fields and refineries, is the biggest at Petrobras in 20 years.
Segen Estefen, a member of the Petrobras board of directors, admitted the stoppage was "bleeding" the company and could hurt employees by reducing its ability to invest. Union officials had initially asked for an 18% hike.
"We are considering the offer, but it doesn't make any concrete concessions to our main demands," Leopoldino Ferreira de Paula Martins, director of communications at the union known as FUP, said.
In a note published late on Wednesday, FUP said its deliberative council met earlier in the day to consider the offer and would meet again on Thursday starting at 2 p.m. (1600 GMT) in Rio de Janeiro. The note also called on members to continue their strike.
Estefen said he expected the strike to be resolved by the end of the week. In the past Petrobras has said it would have difficulty maintaining field and refinery output if the strike lasted much more than 10 days. The strike will enter its 11th day on Thursday.
The work stoppage has caused Petrobras to lose about 115,000 barrels a day of oil output, or about 5.5% of pre-strike output. Petrobras managers and contingency employees workers have sought to curb production losses due to the strike.