Venezuela calls OAS "the world's most perverted, corrupt and discredited organization"
Friday, November 13th 2015 - 08:32 UTC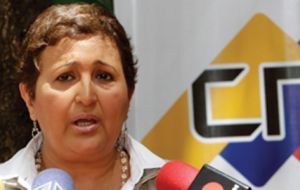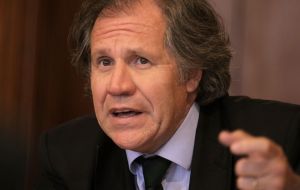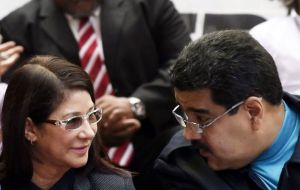 Key Venezuelan government officials launched a furious broadside at the Organization of American States (OAS), a day after its secretary general, Luis Almagro, criticized Caracas and questioned the fairness of the upcoming December 6 parliamentary polls.
After weeks of bickering over the make-up of a potential observer mission for the vote, Almagro — a former Uruguayan foreign minister who began leading the OAS in March earlier this year — sent an 18-page letter to Tibisay Lucena, the head of Venezuela's National Electoral Council (CNE), questioning the country's commitment to electoral transparency. Caracas responded angrily.
"The most perverted, corrupt and discredited organization in the world, the OAS, with the voice of its secretary general, threatens the people of Venezuela," said Diosdado Cabello, head of the National Assembly.
But as the rebuke was made public, problems continued to mount for Venezuela and President Nicolás Maduro, pushing the issue off the front pages.
US senators and leading lawmakers from Latin America called on the populist leader to guarantee free, transparent and democratic elections, adding to growing pressure while it was reported from Haiti that nephews of Maduro's wife and Venezuela's First Lady, Cicilia Flores, had been arrested by the US Drug Enforcement Association (DEA) over accusations of drug-trafficking and flown to the United States to face charges.
The government however sought to keep the focus on the region and the elections. Taking a strong line, Cabello — an influential figure in the Chavista movement — lambasted the OAS, branding it "perverted" and "corrupt."
In the letter to Lucena, Almagro had said there were indications that the electoral system was not transparent and just as he urged Venezuelan officials to level the playing field between the ruling Socialist Party (PSUV) and opposition ahead of legislative elections due December 6.
Almagro claimed that the government could not assure "transparency and fairness in the electoral process for the upcoming parliamentary elections and claimed that any "difficulties only affect" the opposition.
"If I were to look the other way in the face of the opposition's demands in your country, and those of the international community, I would be failing in my essential duties; if you do not have the mechanisms available to ensure an observation that has the fullest guarantees for its functioning, you're failing in your obligations," the former Uruguayan foreign minister said.
Venezuela has for years clashed with the OAS, accusing the organization of being a front for US and right-wing interests and meddling in its internal affairs.
"We must stay on the streets to defend the triumph of the Bolivarian revolution against any attack from the Venezuelan right," Cabello added.