A Dominican connection in Venezuela's First Lady relatives drugs' case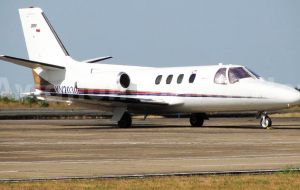 A drugs raid and bust in a yacht moored at a marina in the Dominican Republic is helping to understand the extent of the trafficking network business surrounding Venezuela's First Lady family connections, whose nephew and godson are under arrest in New York, according to media reports in Caracas.
In effect news from the Dominican Republic says that a yacht was raided by Special narcotics police at the posh La Romana marina and apparently cocaine was found which led to the arrest of six persons; all linked to Efrain Antonio Campo Flores, godson of Venezuela first lady Cilia Flores and Francisco Flores de Freitas, her nephew.
Local media in Caracas reported that if confirmed, the information would be more evidence for the prosecution in the New York federal court which has the case of the two Venezuelans allegedly caught red handed while trying to make a drugs deal with an undercover agent.
The Dominican Republic special narcotics police has released no names but the growing feeling is that those arrested in the yacht are linked to Campo Flores and Flores de Freitas.
According to US prosecutors the defendants participated in several meetings during October to coordinate a shipment of drugs with an operation that started in Honduras and whose final destination was the US.
International media reported that the relatives of Venezuela´s first lady were arrested in Haiti with a cargo of 800 kilos of cocaine last Tuesday.
However it has now emerged that most of the cocaine which Cilia Flores´ nephews allegedly tried to negotiate was on board a yacht in the Dominican Republic, reportedly in La Romana, and not in the Cessna Citation 500 which was arrested in Haiti. The plane allegedly had only a five kilos sample of the cocaine for the major transaction.
Furthermore it has now emerged that the aircraft belongs to a Venezuelan businessman very close to the chavista regime, Marcos Uzcategui, whose only daughter is the fiancée of Francisco Flores de Freitas.
Allegedly Uzcategui was a small middle class shopkeeper, but since the chavista revolution has prospered significantly and is a close friend of Iris Varela, Minister of Prisons and Penitentiaries, who also happens to belong to the First Lady's circle of trusted aides.