Presidential debate: not much substance but a clear fading of the Kirchnerite confrontation spirit
Monday, November 16th 2015 - 07:49 UTC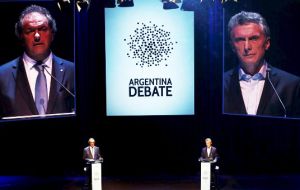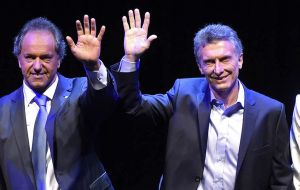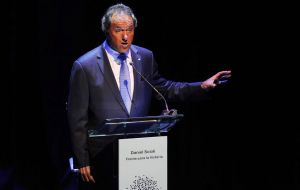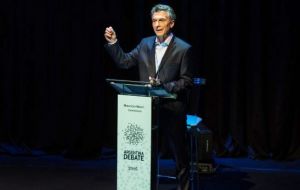 With a repeat of their respective campaign strategies, not much content, and less replies Argentina's presidential candidates, incumbent Daniel Scioli and opposition hopeful Mauricio Macri debated during 75 minutes in four main blocks following clearly established rules of two minutes presentations and one minute question and answer.
The Sunday event, the first run-off debate in Argentine political history broke all audience records and was followed by an immediate flood of messages in the social networks (1,8 million and the counting was stopped) according to the moderators. It took place a week ahead of the 22 November vote that will decide who will succeed Cristina Fernandez and twelve years of Kirchner rule.
At the beginning of the debate, Scioli affirmed Mauricio Macri's ideas "are a danger to the whole society." "I feel his ideas are dangerous, when he said things he hasn't exposed here, like he will lift the dollar restrictions that mean an adjustment. Who will pay the cost of that adjustment?" he asked.
In response, Macri said: "I believe you are the ones afraid, those who are ruling the country. I am asking you to stop being my spokesperson, tell us your proposals instead. We must expand investment and the economy; I never said I will implement an adjustment.
The two presidential candidates discussed key topics that are part of the social agenda, divided in four different segments: one devoted to economy and social development, a second focused on education and infancy, then security and human rights, and finally strengthening democracy.
In a civilized tone and pointing out there was no personal animosity, both candidates nevertheless stood by their guns in debating two models of development for the future of Argentina.
Macri claimed Scioli represented continuity of the Kirchner years with all the economic and social problems that it has created while the incumbent insistently attacked Macri on his pro-business orthodox economic approach which he said, included a tough readjustment of the dollar that would hit workers' pockets and jobs. He also repeatedly asked where all the funds for the promises announced would come from.
Macri struck back with a litany of complaints about Cristina Fernandez's stewardship of Latin America's third-biggest economy, starting with official growth, inflation and poverty data long discarded by private economists as fudged.
"Argentina's problem is not the dollar. It is a government that does not stop lying and has destroyed confidence in our country, which is why there's no investment or growth. Inflation has diluted the income of our retirees and our work force," Macri said. He promised to spur investment and growth by quickly dismantling Cristina Fernandez's trade and currency controls.
Finally he asked Scioli if he effectively believed what President Cristina Fernandez has said before a FAO general assembly in Rome that in Argentina poverty was 5% and in words of cabinet chief Anibal Fernandez, "there was less poverty in Argentina than in Germany, Yes or No?"
The question went unanswered, lost in an argument about all the social advances achieved in the Buenos Aires province of which Scioli has been governor for the last eight years and the fact that time interventions were agreed to one and two minutes.
Further on Macri said he would seek Venezuela's suspension from the Mercosur trade bloc because of the jailing of political opponents by President Nicolas Maduro's socialist government, and asked Scioli to make the same commitment. Scioli ducked the question.
Both said they would confront the rising problem of narcotics trafficking. Argentina has become a shipping point for Bolivian and Peruvian cocaine on its way to Africa and then north to the lucrative markets of Europe.
"Narcotics trafficking has rotated into our territory," Scioli said, calling for zero tolerance of illegal drugs. "But when there is fiscal adjustment and the destruction of employment, it increases inequalities that promote violence."
He said his ample welfare policies would do a better job of guaranteeing security.
"We have to confront drug trafficking after 10 years of government inaction," Macri jabbed back. "We have to work together with countries that are fighting the disgrace that is the narcotics trade".
At the end of the 75 minutes it was clear both candidates only talked and pressed on what they were interested or wanted to say, and Macri came out through not necessarily more convincing about his ideas and proposals but seemed more serene and transmitted greater confidence.
A measurement of the winner of the different blocks showed Macri ahead in the first two, but Scioli managed to come back in the remaining two as he appeared less nervous and more sure of himself. Likewise the million long of messages overwhelmingly supported Macri but in a country with 14 million living in poverty, according to Catholic church estimates, with a majority of those voters supporting the government and its social programs, it basically reflects middle class reaction.
Finally when debate time was over, the two candidates shook left hands and were joined by their wives on the stage with Macri taking the upper hand since he was rewarded by a passionate kiss from her couple. A long applause at the Law School auditorium followed with the two candidates standing together.
Analysts coincided that the debate went on much better than expected, even when not much was said, but it was undoubtedly an 'institutional hit' given the way it evolved and how candidates behaved. Probably the outstanding fact was that the acid confrontation and ironic style of a decade long of Kirchnerism is coming to an end.
Official campaigning ends Thursday, 48 hours before runoff Sunday 22 November when a couple hours later the name of the next Argentine president should be announced. So far Macri is leading by several points in vote intention, but there's still, according to pollsters, probably one in ten that will decide on Sunday.