Uruguay's ruling Broad Front coalition divided over Venezuela
Monday, November 16th 2015 - 07:10 UTC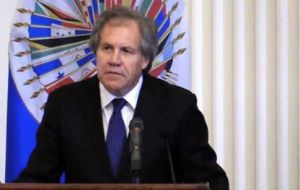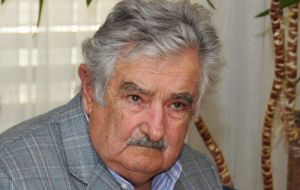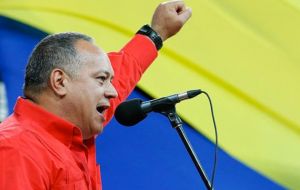 The strong 16 pages long letter sent by OAS (Organization of American States) secretary general Luis Almagro to Venezuelan electoral officials calling for transparency, international observers and freeing political prisoners, ahead of December 6 legislative elections, triggered an immediate furious insulting reaction from Venezuela's strongman Diosdado Cabello, but also again exposed a growing rift in the Uruguayan government.
In effect Luis Almagro was Uruguayan former president Jose Mujica foreign minister and as such very close to the Chavista regime and president Nicolas Maduro, following the instructions of his leader, and his own declared convictions. However as OAS chief he has a mandate to comply with a greater consensus and rules, and thus the letter.
Asked about the letter and speaking from Colombia former president "Pepe" Mujica said he was confident that Venezuela can solve its problems and "find their destiny." The senator added emphatically: "I do not like political prisoners anywhere on earth!"
"I believe that the Venezuelans have to fix the problems between themselves and my attitude is always focused on that." Mujica said.
However fellow Broad Front (FA) coalition member and Uruguay's Minister of Economy Danilo Astori called Alamgro's letter "superb" and "very balanced, concerning the advocacy of the interests of Venezuelan citizens."
"I personally agree with its content," Astori said when asked about the letter. But when questioned over the Uruguayan Foreign Office and the Executive Office's plans, Astori said that he could not disclose any "decisions."
The two opinions illustrate the split that has arisen amongst members of Uruguay's ruling coalition over the state of affairs in Venezuela.
The Uruguayan Electoral Court (CEU) currently heads the Unasur Electoral Council, which have attempted to form an observer mission to go to Venezuela for the elections.
The executive secretary of Venezuela's opposition Democratic Unity Roundtable (MUD), Jesús Torrealba, described Almagro's letter as "important" as "it reveals" that "Venezuela has been under observation (for some time), not just from now on."
"The ruling party's opportunism, abuse of state media, the persecution, disqualification of candidates, the detention of political leaders, one by one the facts of the reality in Venezuela appear here reflected in this letter," Torrealba said on his regular radio show.
A vote was taken in the Uruguayan parliament with the purpose of naming an all party delegation of lawmakers to be present at Venezuela's election. However the ruling Broad Front which has a comfortable majority, threw out the initiative so the main opposition party, (National party), named its own group of Deputies and Senators that will be traveling to Venezuela for a week not to observe or monitor the election but merely "to see" how events evolve.