Flags at half-mast on Whitehall as UK observes a minute's silence on Monday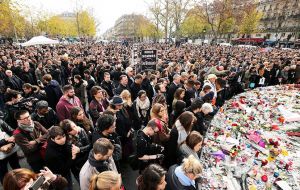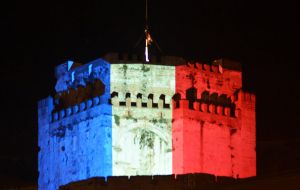 Flags fly at half-mast on Whitehall government buildings as the United Kingdom observed a minute's silence on Monday 16 November 2015. The minute's silence was held across Europe at 11am (UK time), in remembrance of those who lost their lives in the series of terrorist attacks in Paris, France.
The terrorist incidents, which took place on Friday 13 November, claimed at least 129 lives and resulted in widespread casualties.
As a mark of respect and expression of solidarity, all Whitehall government departments have lowered their Union Flags to half-mast.
From Gibraltar gibnews.net reported that in a show of support for the people of Paris, the Moorish Castle was illuminated in red, white and blue on Saturday and Sunday nights.
The Union flag is flying at half mast and political campaigning for the upcoming general election has been suspended until Monday evening.
All Gibraltar government offices marked the memory of those who were murdered in Paris on Friday night with a two minute silence at midday on Monday.
Pierre Fayaud, the French Consul in Gibraltar, joined the Chief Minister and all Ministers at No6 Convent Place to observe the two minute silence.
The staff of No6 Convent Place stood outside the building for this mark of respect for the victims.
Global Coalition
The UK is part of the Global Coalition of 63 nations working together to dismantle and destroy the threat of ISIL (Islamic State of Iraq and the Levant also known as Islamic State, Da'esh or ISIS).
ISIL is a terrorist organization that claims to represent Islam, but it uses the banner of religion to carry out barbaric atrocities including beheadings, crucifixions, slaughter of children, selling of women as slaves and the systematic use of rape as a weapon.
To assist the Iraqi government, British forces have conducted air operations over the country against ISIL targets. The UK's military response is part of a wider international strategy, involving a coalition of more than 60 countries, including the US, Arab and European nations.
The UK government is also providing £59.5 million in humanitarian aid to support people across Iraq who have fled from ISIL.