G20 leaders in Turkey vow to step up the fight against terrorism
Tuesday, November 17th 2015 - 07:55 UTC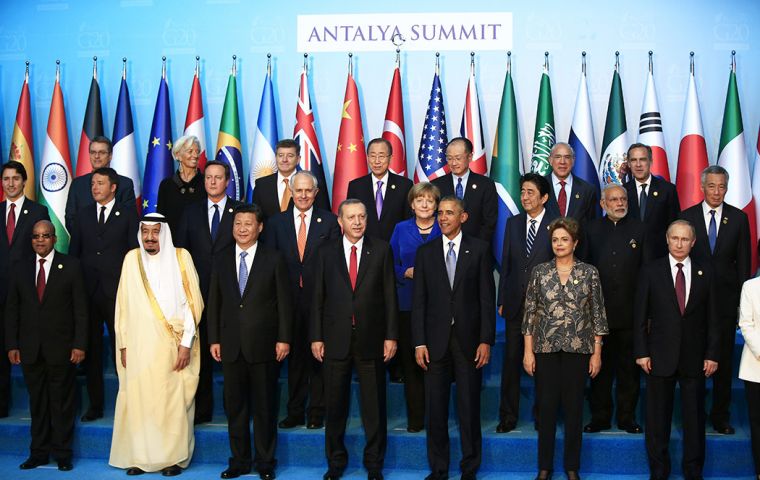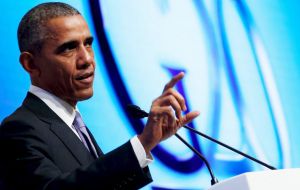 In the wake of the Paris horrific coordinated attacks, leaders from the world's top economies ended on Monday a two-day summit at a resort in Turkey with a vow to step up the fight against terrorism. The attacks that left 132 people dead and hundreds of injured shrouded the nine hours of formal talks that were already set to include discussions of terrorism and a refugee crisis stemming from the mass exodus of people from war-torn Syria.
The Group of 20 leaders promised to cooperate on managing borders, airline safety, sharing information on suspected terrorists, countering propaganda and freezing terrorist assets.
Their final statement didn't mention specific terrorist organizations, such as the Islamic State, which has claimed responsibility for the Paris attacks and has seized large areas of Syria and Iraq. Instead the statement emphasized that "terrorism cannot and should not be associated with any religion, nationality or ethnic group."
President Obama said after the summit ended that he will continue working with other countries on a coordinated strategy to destroy the Islamic State, but without committing U.S. combat troops. The United States and its allies "are united against this threat," Obama told a news conference.
Currently, a U.S.-led coalition is bombing Islamic State targets in Iraq and Syria. Raqqa, the radical group's headquarters city in Syria, was the site of heavy bombing by French warplanes Sunday night in retaliation for the Paris attacks.
On other matters, the G-20 leaders endorsed efforts to reduce greenhouse gases and promised to make the global climate conference that begins in Paris at the end of the month a success. France said the conference would take place as scheduled.
The annual G-20 summits that were launched in 2008 during the global financial crisis bring together a diverse group of rich and developing countries that collectively account for 85% of global output. The G-20 includes — among others — the United States, Britain, France, Germany, China, Russia, India, Japan, Turkey, Indonesia, Saudi Arabia, South Africa, Argentina, Brazil and Mexico.
In their statement on the global economy, the leaders said economic growth is uneven and disappointing. They said they look for improvement over the next year and expressed hope that the global economy could grow by 3.6% in 2016, which would be the highest rate since 2011.
On the refugee crisis, the G-20 said a coordinated and comprehensive response is required. The leaders called upon "all states to contribute to responding to the crisis and share the burdens, including refugee resettlement."
Germany's Angela Merkel, a strong advocate of Europe accepting asylum-seekers from the Middle East, warned against stereotyping Syrian refugees as possible terrorists, a concern cited by many nations. Four million Syrians have fled their country, most traveling through Turkey to other destinations in Europe. Germany has offered to take nearly 1 million migrants.