Marriott agrees to buy Starwood, making it the largest hotel chain in the world
Tuesday, November 17th 2015 - 09:07 UTC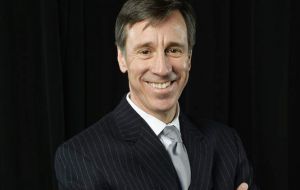 Marriott International has agreed to buy Starwood Hotels and Resorts in a $12.2 billion deal that will make it the largest hotel chain in the world. The boards of directors of both companies have unanimously approved a merger agreement, Marriott announced this morning. The combined companies will operate or franchise more than 5,500 hotels with 1.1 million rooms worldwide. About 35% of the properties are outside the USA.
Marriott CEO Arne Sorenson will remain CEO of the combined company. The company's headquarters will remain in Bethesda, Md. The companies expect the deal to close in mid-2016, following shareholder and regulatory approvals.
Starwood indicated in April that it was seeking to reorganize or sell. Long-time CEO Frits van Paasschen resigned earlier this year.
In an interview Sorenson said Starwood appealed to Marriott because of its portfolio of 11 brands, many of them lifestyle hotels that tend to attract younger travelers. Marriott has aggressively tried to target that consumer group with the introduction of such brands as AC hotels and Moxy.
Starwood also brings with it a strong international presence that Sorenson says will help Marriott increase its global footprint.
"We really like the global platform that Starwood has. We think this is a global industry," he says. "We have really powerful global travel trends, whether you think of the new group of Chinese traveling abroad or Indians traveling abroad or people wanting to get around and see the world. We think it's good to accelerate our global distribution that way."
The move was also a smart play at a time of myriad mergers within the on-line travel booking space.
"The online travel reservations operators have been consolidating as well,'' said Scott Kim, research director for Kellner Capital. "So as online travel aggregators get larger, I think the suppliers, which are namely the hotel operators and reservation systems, really have to try and get larger as well to keep some balance of power in negotiations. So it's really consolidation along the whole supply chain.''
Expedia, the number one digital travel provider, announced earlier this month that it would buy vacation rental site HomeAway for $3.9 billion, and purchased Orbitz Worldwide earlier this year for roughly $1.6 billion. Its rival Priceline bought Kayak in 2012, and has veered beyond the travel space by acquiring restaurant reservations site OpenTable for $2.6 billion in June, 2014.
"The combination of our two companies brings together the best in innovation, culture and execution," Starwood interim CEO Adam Aron said in a written statement. "Our guests and customers will benefit from so many more options across 30 hotel brands, while our hotel owners and franchisees will derive value from our combined global platform and efficiencies."
Starwood has 11 brands, including W Hotels, St. Regis, Westin, and Aloft. The company had been making itself more attractive to a buyer by creating two new brands this year. The Tribute Portfolio is a collection of four-and five-star independent hotels. Last week, the company expanded a partnership with Design Hotels to bring the Germany-based company into the Starwood portfolio. The company had been in talks with Chinese companies as well as Chicago-based Hyatt Hotels and Resorts over a possible sale.
Starwood's brands will join Marriott's 19, which include The Ritz-Carlton, Residence Inn, and Courtyard. Sorenson says there are no plans to get rid of any of the brands, even though some like Marriott's Renaissance hotels and Starwood's Le Meridien serve similar audiences.