Rousseff again confirms Levy as (austerity) minister despite complaints from the ruling party
Tuesday, November 17th 2015 - 09:19 UTC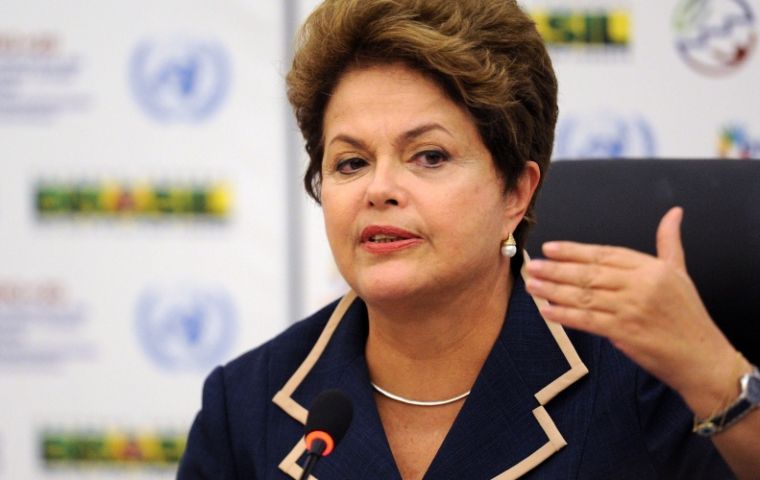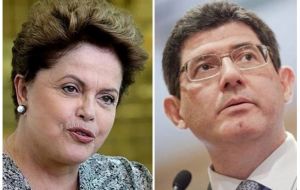 Brazilian President Dilma Rousseff jumped to the defense of her embattled finance minister saying she would not be pressured into sacking him. Rousseff, fighting to save her second term presidency from threatened impeachment proceedings, said she was ignoring suggestions by the head of her own Workers' Party (PT) that Joaquim Levy should be dismissed.
"I think the president of the PT (Rui Falcao) can have whatever opinion he wishes, but that is not the opinion of the government," Rousseff was quoted as saying by Brazil's Folha newspaper during a visit to Sweden.
"If I tell you that is not the opinion of the government, then Levy stays." Further backing Levy, Rousseff said "if he stays, it's because we agree with his policies."
Levy is under pressure over Brazil's recession, mounting inflation and unemployment and the government's inability to pass new austerity measures in a hostile Congress. Some in the populist PT oppose policies that they say will worsen the economic situation for Brazil's poor.
Among those urging Rousseff to sack Levy, according to Brazilian media, is Rousseff's mentor and predecessor in the presidency, Lula da Silva. Rousseff also dismissed this, saying "he never asked me for anything."
However Lula da Silva did effectively invite Henrique Meirelles, to return to active politics and help with the current financial situation. Meirelles was central bank chairman during the eight years of Lula da Silva, and a very orthodox economist and banker at that.
Rumors briefly flew on Friday that Levy was going to hand in his resignation. A similar rumor blew up in September, highlighting the turmoil in Rousseff's government.
Rousseff is not only struggling with political opponents in Congress, but hoping to reassure financial markets following a credit downgrade by Standard & Poor's last month to junk status and another downgrade this week, to just above junk, by Fitch Ratings.