Venezuela claims Maduro's nephews held in the US on cocaine smuggling charges were 'kidnapped'
Tuesday, November 17th 2015 - 08:37 UTC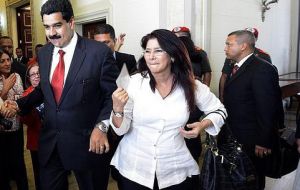 Two men said to be relatives of Venezuelan President Nicolas Maduro who are being held in the United States on cocaine smuggling charges were "kidnapped," a senior member of the ruling Socialist Party said on Monday.
In the first direct comment on the case from a high-ranking Venezuelan official, National Assembly president and party No. 2 Diosdado Cabello also said it was an attempt by Washington to discredit the country's government right before a vote.
"The aim was to hurt the Bolivarian revolution in the midst of an election," he told local broadcaster Globovision, referring to the Dec. 6 vote for a new parliament.
Franqui Francisco Flores de Freitas, 30, and Efrain Antonio Campo Flores, 29, were arrested in Haiti last Tuesday and flown to New York for indictment. They plan to plead not guilty at their next court appearance on Dec. 2, according to lawyers.
A U.S. law enforcement source said Campo had admitted to authorities he was like a son to Cilia Flores, the wife of Venezuela's president.
Allegedly the pair had met a U.S. Drug Enforcement Administration informant in Honduras last month and asked for help in sending 800 kg of cocaine to the United States through an airport on the Honduran island of Roatan.
According to the indictment, the men also participated that month in meetings in Venezuela regarding a shipment of cocaine that was to be sent to the United States via Honduras.
The case follows announcements earlier this year of other U.S. investigations into alleged drug and money-laundering crimes linked to Venezuelan officials and state institutions.
"I don't see it as an arrest. The truth is that a plane went to Haiti with six people, and two people were kidnapped," Cabello said. "The procedure was illegal; there were six people and they only arrested two, what the DEA has done is very irregular."
Cabello said he thought one of the men was not linked with the presidential family, although Venezuelan sources close to the family have said the two are nephews of Maduro's wife.
Neither Flores nor Maduro has commented directly on the case, although they have appeared numerous times on state TV. Cabello said they had no responsibility in the case.
"These are grown men who can do what they want in life," said Cabello, who U.S. media have reported is also under investigation there for possible links to drug trafficking. "It's impossible you or I track everything our nephews are up to."
Diosdado ('Godgiven' translated from Spanish) Cabello, is now referred to in Venezuela as "narco-given" Cabello. However he probably, as a former Army officer, wields greater power that Maduro himself.
Venezuela's opposition has cast the case as further evidence of high-level corruption and demanded an investigation.
"We are witnessing a situation that could highlight the connection between criminality and the circles of power," said Jesus Torrealba, secretary of Venezuela's opposition coalition.