World Anti-Doping agency includes Argentina, Bolivia and Ukraine in its non-complaint code list
Thursday, November 19th 2015 - 07:04 UTC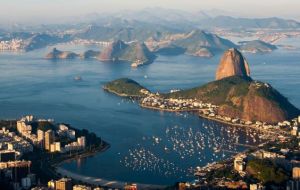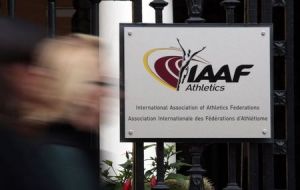 The World Anti-Doping Agency's Foundation Board has unanimously voted to declare the national anti-doping agency for Russia, Andorra, Israel, Argentina, Bolivia and Ukraine non-compliant with its code.
Brazil, Belgium, France, Greece, Mexico and Spain were placed on a watch list by WADA, which means their anti-doping agencies must meet strict conditions by March 18, 2016 or be deemed non-compliant.
Argentina, Bolivia and Ukraine were using non-accredited laboratories to test blood and urine samples. Andorra and Israel did not have the 2015 WADA code compliant rules in place.
Rio de Janeiro in Brazil will host the 2016 Summer Olympic Games. Paris is bidding for the 2024 Summer Olympics.
WADA's meeting in Colorado Springs comes just one week after former president Dick Pound released the findings of an Independent Committee's review into performance enhancing doping in Russian sports and recommended that the IOC ban the country from international competition, while also banning five coaches and five athletes.
The IAAF suspended Russia from international competition on Friday.
"The message from today's seminal WADA Foundation Board Meeting is clear: there will now be greater focus on strengthening compliance work so that all anti-doping organizations worldwide are held accountable to deliver robust anti-doping programs," said WADA President, Sir Craig Reedie.
"As we have seen from WADA's immediate response to the Independent Commission's Report, action is now well underway to right wrongs that exist in anti-doping. Our priority is now on ensuring all our partners are fully compliant and have watertight anti-doping systems that protect clean athletes and reassure sports fans worldwide," added Reedie.
"Make no mistake, we will not rush this process of compliance, we will do it right, the integrity of sport is under threat."
"Anti-doping in sport is under the spotlight today like never before, and WADA, along with our partners, have begun the work needed on the road to recovery for Russia. The world is watching and we have acted."
However Kenya and Jamaica, who topped the IAAF World Championship medal table this summer, were not placed on the list. Kenya is being investigated by the IAAF for alleged doping cover-ups since last March.
Kenya may have avoided being placed on the watch list by immediately establishing an anti-doping agency after Russia's suspension.
About 40 Kenyan athletes have tested positive for performance enhancing drugs in the past two years. At the 2015 world championships, 400-meter sprinter Joyce Zakary and 400-meter hurdler Koki Manunga accepted suspensions for positive tests. The highest profile case in the last two years was Boston and Chicago Marathon champion Rita Jeptoo's positive test for EPO just days before almost collecting $500,000 in prize money from the World Marathon Majors.
In August 2013, Renee Anne Shirley, the former executive director of Jamaica's Anti-Doping Commission, reported that one out-of-competition test was done on Jamaican athletes between February 2012 and the start of the London Olympics five months later. The entire JADCO board resigned months later.