Brazil considering plan to bolster Petrobras capital with 'hybrid securities'
Friday, November 20th 2015 - 07:36 UTC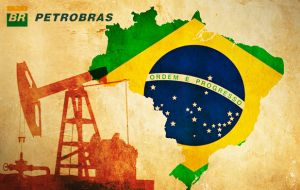 Brazil's government is considering a debt plan to bolster the capital of heavily indebted state-controlled oil Petrobras, Agencia Estado news agency reported on Thursday. Under the plan, the Brazilian Treasury would transfer so-called hybrid securities to Petrobras, which would then book the securities as equity until it sold new stock, Estado reported.
The move would make Brazilian taxpayers pay to prop up Petrobras, the world's most-indebted oil company. Reports of the plan come as Petrobras finds itself in a deepening cash crunch caused by over-ambitious expansion spending and as a massive corruption scandal undermines its ability to refinance more than US$130bn of debt.
The National Treasury has not decided what structure to use for the capital plan, Estado said. However not everybody is happy with using taxpayer money to bail out Petrobras.
The price on Petrobras' 6.25% bond maturing in March 2024 jumped more than 2 percentage points on Thursday to 82 cents on the dollar, the highest level in a week. Petrobras preferred shares reversed their earlier losses on the news, and closed 0.3% higher at R$9.51.
Petrobras' debt problems have mounted through the past decade as project delays, cost overruns, failure to meet output targets and the government's insistence that the company subsidize fuel prices crimped revenue amid annual capital investments of about US$40bn. Until three years ago, Petrobras had the world's largest corporate investment plan.
The debt-to-equity ratio reached 58% last quarter. In late 2012 it crossed its own 35% limit and doesn't expect to return to that level until 2020 at the earliest.
As a result, Petrobras has been forced to cut its five-year spending plan by about US$100bn and is trying to sell more than US$50bn of assets by 2019, US$15.1bn of that by the end of next year.
Petrobras' financial situation has been made worse by a giant price-fixing, bribery and political kick-back scandal that has left leading contractors bankrupt and forced billions in write downs on refineries and other assets.