High expectations in Argentina of a record soybean sowing in 2015/16
Saturday, November 21st 2015 - 08:09 UTC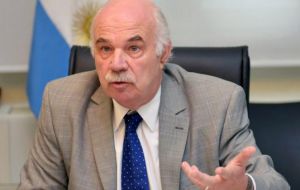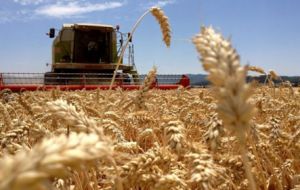 Argentina's much-watched soybean sowings will set a record this season, but the country is heading for a weaker wheat harvest, despite ideas of "very good" yields, the country's farm ministry said. In its first estimate the ministry said soybean sowings for 2015-16, pegged area at 20.6m hectares, a rise of 800,000 hectares year on year.
The figure is a little above the forecast of 20.0m hectares that the US Department of Agriculture, whose data set world benchmarks, has been working off, and would far exceed the record of 20.04m hectares set in 2012-13, on Argentine records.
It is also above the 19.8m hectares that the Buenos Aires grains exchange, whose statistics are also well followed, has forecast.
And it comes amid a close watch by international agribusiness investors on Argentine sowings prospects, amid ideas that the new president to be elected on Sunday will introduce a more liberal agricultural regime which will encourage farmers to step up plantings of a number of crops.
Both candidates in Sunday's elections, the ruling party's Daniel Scioli and opposition candidate Mauricio Macri, have pledged to cut taxes and red tape on crop exports, implying increased returns for growers.
The ministry stopped short of detailing the reasons behind its soybean sowings forecast, although it said that plantings were so far 23% complete, up 1 point year on year, but that cold weather had hampered germination and "excessive rains and hail" had forced some replanting.
The conditions had also had some effect on the wheat crop, which is in the early stage of harvesting, with the low temperatures delaying development in some areas, while heavy rains had encouraged some sprouting in wheat in north western areas. The rains had also encouraged diseases such as rust.
Nonetheless, the ministry said that while yields had been "variable", if "acceptable", so far, they were expected to improve as the harvest goes on. "In the main producing areas, very good yields are expected at this time," it said.
The ministry forecast an Argentine wheat crop of 10m-12m tons, a sharp drop on the 13.9m tons achieved last year, on its estimates, but implying the likelihood of a higher average yield.
Production is seen being curtailed by sowings, which were seen falling a little more sharply even than previously expected, downgraded by 100,000 hectares to 4.00m hectares, a 24% slide year on year.
The ministry's production figure is greater than that from the Buenos Aires grains exchange, which on Thursday restated an estimate of 9.50m tons, off a planted area of 3.70m hectares.
The International Grains Council on Thursday pegged the crop at 10.4m tons, off 3.8m hectares, while the USDA has a 10.5m-ton crop, from 3.5m hectares.
The 2014-15 harvest was pegged by the ministry at 13.9m tons, the USDA at 12.5m tons, and the Buenos Aires grains exchange at 11.75m tons.