Mercosur ready to begin political negotiations for the trade agreement with the European Union
Wednesday, November 25th 2015 - 08:22 UTC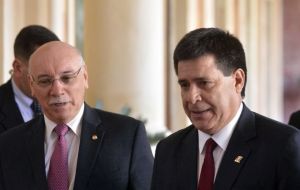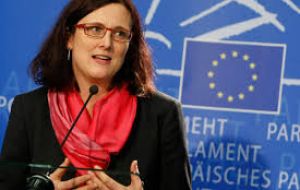 Mercosur is only waiting for the European Union to begin the political negotiations on the long delayed overall trade agreement, announced Paraguay's foreign minister Eladio Loizaga in Asunción, just back from Brussels where he met with EU and Belgian officials.
"We're confident the negotiations process will advance in the next weeks, as it was agreed last October and confirmed during my visit to Brussels", said Loizaga after holding talks with Paraguayan president Horacio Cartes to report on the advance of discussion and the coming visit of the head of state to France this weekend for the climate summit in Paris.
Loizaga revealed that the Mercosur/EU technical talks are very much advanced and both blocks are planning to begin the political negotiations in the near future.
"Mercosur transmitted in Brussels its political decision to begin those negotiations. The ball in now in the EU court". Loizaga added that next Friday the Mercosur council of trade ministers will meet with EU representatives to advance those negotiations. EU Trade commissar Cecilia Malmström will be attending the round of talks.
Minister Loizaga, who is acting for Mercosur, since Paraguay holds the rotating chair of the block this second half of 2015, indicated that the Mercosur goods and services' tariffs initiative is "a floor proposal" which means "it can be elevated if necessary according to how negotiations evolve, and this also includes the much disputed farm produce exports".
"I can strongly affirm that Mercosur has the greatest interest in beginning the negotiations" leading to the signing of the ambitious agreement sometime early next year.
The talks for a comprehensive trade and cooperation agreement between Mercosur and the EU took off in 1999, were frozen in 2004 for the following eight years mainly because of disagreements from Argentina and France and Ireland. Since 2012 talks have resumed and advanced, and there is a consensus on "agriculture produce and exports" that this contentious issue must be addressed.
The trade negotiations this week received a strong backing from Argentine president-elect Mauricio Macri, who is business friendly and contrary to current leader Cristina Fernandez has anticipated he favors trade agreements in the region, mainly Brazil, but also with the Pacific Alliance, that includes Chile, Peru, Colombia and Mexico. Launched in 2010, the alliance has moved faster and achieved more than Mercosur started in 1991.