U.S. economy picks up in third quarter but down from same period in 2014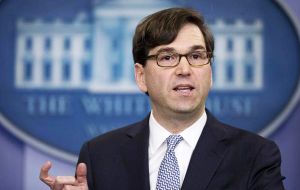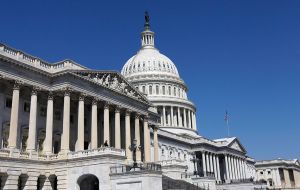 The U.S. economy grew at a slightly faster pace in recent months than first thought, as businesses restocked their goods. U.S. Commerce Department said the world's largest economy advanced 2.1% in the July-to-September period, up from an initial estimate of 1.5%.
Even with the faster pace, the third quarter figure for the country's output of goods and services is down markedly from the 3.9% gain in the April-to-June quarter.
However the latest advance could be sufficient enough to push policymakers at the central bank, the Federal Reserve, to boost a benchmark interest rate when they meet next month in Washington.
White House Economic Adviser Jason Furman said slowing foreign demand for U.S. goods is inhibiting the country's economic growth and Congress needs to focus on domestic spending.
Furman called for lawmakers to quickly approve a government spending plan extending through next September and long-stalled highway construction legislation, while renewing operations at the country's Export-Import Bank that makes loans to foreign businesses who want to buy U.S. products.
The Fed has kept the key rate, which helps trigger borrowing rates for businesses and consumers, at near zero for several years in an effort to spur the U.S. recovery from the depths of its recession in 2008 and 2009, the country's worst since the Great Depression of the 1930s.
Now the U.S. labor market has been adding close to 200,000 jobs a month and the sharp decline in world oil prices has pushed down gasoline prices for motorists, leaving U.S. consumers more money to spend on other items. Analysts think that combination could boost the U.S. economy to a 2.5% advance in the October-to-December period.
The third quarter advance for the overall economy was fueled in part by business stockpiling that was not as slow as first estimated, down by six-tenths of a percentage point as opposed to 1.4%. Business investment spending for construction, equipment and research and development was also stronger than first thought.