Cameron and Macri agree to 'strengthen relations' and 'to pursue a path of open dialogue'
Friday, November 27th 2015 - 06:10 UTC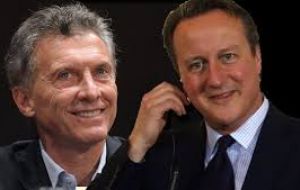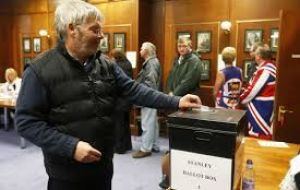 Britain's David Cameron and Argentina's president-elect Mauricio Macri agreed to "strengthen relations" and "to pursue a path of open dialogue" between their countries after a phone call Thursday, Downing Street said.
Britain and Argentina have long had tense ties due to their territorial dispute over the Falkland Islands. Macri, who was elected Sunday promising economic reforms and seeking foreign investment, says he wants "good relations with all countries".
Downing Street office said Cameron had called Macri to congratulate him, and also pledged support for Argentina's economic reform program and the soon conclusion of the European Union-Mercosur free trade agreement.
"The leaders agreed that this was an opportunity to strengthen relations between the UK and Argentina and to develop existing trade and investment links," the statement said.
"Acknowledging the differences between the two countries, both leaders agreed the need to pursue a path of open dialogue and to work towards a stronger partnership."
Discussing Argentina's economic reform program, the Prime Minister pledged UK support, as a fellow member of the G20. He also expressed UK support for an EU-Mercosur free trade agreement to be concluded as soon as possible.
Finally, the Prime Minister wished President-elect Macri well with forming his new administration and both leaders looked forward to meeting in the future.
Tensions between UK and Argentina came to a head in 2012 when current president Cristina Fernandez and Cameron clashed at a G20 summit after she tried to hand him a package of UN resolutions relating to the disputed Falklands and he refused to receive them.
In a 2013 referendum, with international observers, 99.8% of Falkland Islanders voted to remain a British overseas territory.
Earlier in the week Foreign Office minister Hugo Swire, addressing House of Commons said that "we look forward to working with the new government of Argentina who hopefully will not suffer from the bullying and bellicosity shown by the former government of Argentina to the people of the Falkland Islands".