Commonwealth summit opens in Malta; counter extremism top of the agenda
Saturday, November 28th 2015 - 07:17 UTC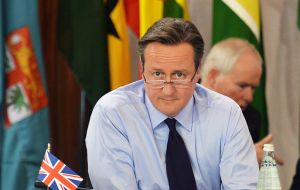 Britain's Queen opened on Friday a two-day summit of leaders of the 53 Commonwealth nations in Malta. The Commonwealth Heads of Government Meeting (Chogm), held every two years, will focus on climate change, with talks on security issues also expected.
UK Prime Minister David Cameron has pledged to set up a Commonwealth unit to target the "scourge" of extremism. The group of nations has a vital role to play in tackling terrorism, he said, and pledged £5m to help fund the unit.
Security was high around the Queen as she arrived with the Duke of Edinburgh, the Prince of Wales and Duchess of Cornwall.
Opening the conference, the Queen said she was enormously proud of what the Commonwealth had achieved and "all of it within my lifetime". She said Commonwealth nations would continue to be called on to demonstrate leadership in global issues.
Counter-terrorism is top of Mr. Cameron's agenda for the meeting in the Maltese capital, Valletta. It comes after he addressed MPs in the UK to state his case for military air strikes in Syria to tackle so-called Islamic State.
Mr. Cameron said of the Commonwealth unit: "The Commonwealth has a vital role to play in broadening international efforts to counter extremism.
"Its civil society and education networks make it particularly well placed to complement international efforts to build counter narratives to this poisonous extremist ideology.
"This is the struggle of our generation, but by working together we will defeat this extremism scourge that is a threat to us all."
Mr. Cameron has pledged £1m funding annually, for five years, to help set up the unit, with another £200,000 going on expanding a European counter-radicalization youth program to include the Commonwealth.