Unasur calls on Maduro to launch thorough investigation into the killing of opposition politician
Saturday, November 28th 2015 - 08:10 UTC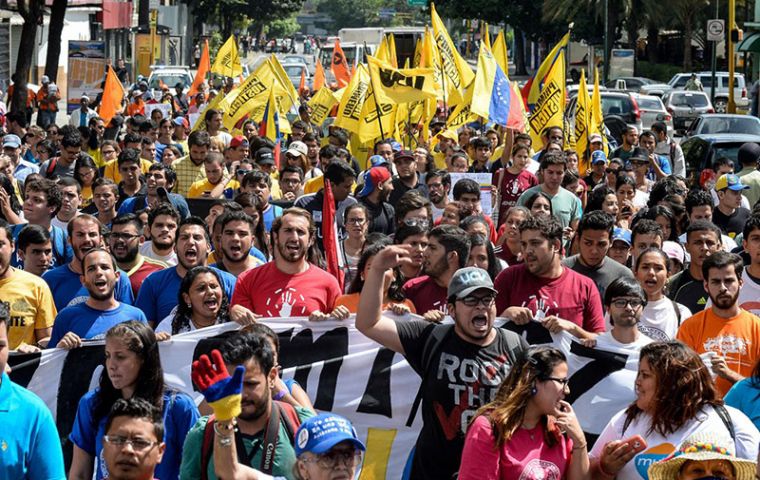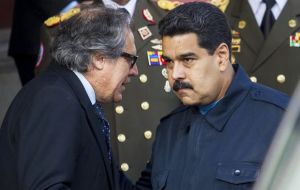 An electoral mission of the Union of South American Nations (Unasur), the body in charge of monitoring Venezuela's upcoming elections on December 6, called on the authorities in Caracas to immediately launch a thorough investigation into the death of an opposition politician at a rally, barely two weeks before crucial parliamentary elections.
The brutal murder of local opposition leader Luis Manuel Díaz, of the opposition Democratic Action party (AD), on Thursday threw the country's polarized politics into even further turmoil, prompting the Unasur bloc to call for an urgent probe in a statement published on its website. Díaz was shot at the end of a town-hall meeting, with witnesses claiming he was shot at least 10 times.
"Unasur expresses its most energetic rejection of all kinds of violence that could affect the normal development of the electoral process (in Venezuela)," read the statement.
Before Díaz joined AD five years ago, he was a member of the ruling United Socialist Party of Venezuela (PSUV).
Details of the incident were initially scarce, with the opposition blaming the government and its supporters. Venezuelan President Nicolás Maduro meanwhile expressed his regret over the death of Díaz during an event in the western state of Portuguesa, broadcast on state television.
The Venezuelan leader, who followed late former leader Hugo Chávez into Miraflores Palace, also faced pressure from the Organization of American States (OAS), which has clashed with Maduro over election monitors for the crucial vote, in which the PSUV could lose control of the National Assembly.
Maduro has stepped up his rhetoric over recent weeks after OAS General Secretary Luis Almagro sent a letter to the head of the country's National Electoral Council (CNE) earlier this month claiming that the government "can't guarantee fairness" in its upcoming elections. Maduro hit back furiously calling the OAS "the most perverted, corrupt and discredited organization in the world."
Almagro expressed his concern over Díaz's death in a statement released yesterday. "The assassination of a political leader inflicts a death wound to democracy," he wrote.
A statement issued by the organization also mentioned other violence in the build-up to the vote, saying that the assassination of Díaz should be understood within the context of other attacks on the opposition.
This "is not an isolated episode," Almagro said, "but occurs in conjunction with other attacks carried out against other political leaders of the opposition, in a strategy that seeks to intimidate the opposition."
An angry Maduro immediately hit back at Almagro in a state broadcast, criticizing the Uruguayan politician for "attacking Venezuela merely 12 hours after the investigation had began." The president referred to Almagro as "Mr. Rubbish."
"I have asked the authorities to convene a press conference once they have accurate information, in order to let people know the facts," Maduro declared.