Macri's victory was narrower than expected, according to the final vote count
Tuesday, December 1st 2015 - 07:40 UTC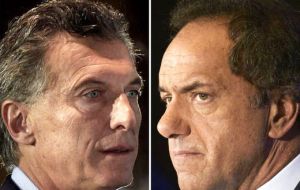 Argentina's conservative, business-friendly president-elect Mauricio Macri won the presidential election earlier this month with 51.34% of the vote, according to final results released Monday. His rival, incumbent Daniel Scioli, finished with 48.66% percent, said the head of the national electoral authority, Alejandro Tullio.
The margin, 680.607 votes was slightly narrower than the provisional count released at the end of voting day on November 22. Macri was supported by 12.997.937 votes and Scioli had 12.317.330.
In Buenos Aires province, Argentina's main electoral district, the Victory Front of Scioli garnered 4.882.082 votes or 51.10% while Macri's 'Let's Change' obtained 4.662.935, or 48.90%.
Former football executive Macri's victory represents a significant change for Argentina, where "Peronism"—the broad populist movement of former president Juan Peron and his wife Evita—has dominated politics for much of the past 70 years.
Scioli was President Cristina Fernandez choice to inherit her and her late husband Nestor's 12-year dynasty.
Since recovering democracy in 1983, Argentina has had two non Peronist governments, the first under Raul Alfonsin, the second with Fernando de la Rúa in 1999, but none of the two managed to end their mandates, and were replaced by Peronists