British bombers take off from Cyprus after parliament vote on Syria
Thursday, December 3rd 2015 - 06:53 UTC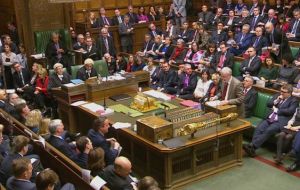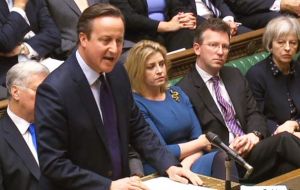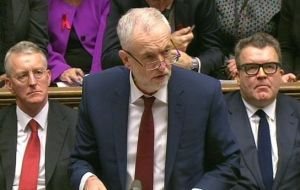 British fighter-bombers took off from an RAF airbase in Cyprus hours after parliament voted in favor of airstrikes against ISIS strongholds in Syria. The Ministry of Defense would not go into details but said the vote late Wednesday could mean "surveillance or operational missions over Syria."Lawmakers voted 397 in favor of action and 223 against, following a 10-hour debate
After the November 13 terror attacks in Paris, France asked the U.S.-led coalition to bump up the military offensive against ISIS.
Now that Britain has decided to expand airstrikes that it previously conducted only in Iraq, the spotlight is on the German Parliament, which also is expected to approve greater military commitment against the terror group.
U.S. President Barack Obama welcomed the British move and said the coalition would work "to integrate them into our coalition air tasking orders as quickly as possible."
Prime Minister David Cameron kicked off the debate by saying that ISIS is a threat to the British people, proved in part through the beheadings of UK hostages in the Middle East and other atrocities.
"This is not about whether we want to fight terrorism. It's about how best we do that," Cameron argued. He said the UK faces "'a fundamental threat to our security" and posed the question, "Do we work with our allies to degrade and destruct this threat ... or do we sit back and wait for them to attack us?"
"This is the right thing to do to keep Britain safe, to deal with this evil organization and as part of a process to bring peace and stability to Syria," Foreign Secretary Philip Hammond told CNN.
Hammond said the military campaign will have two stages: airstrikes to degrade ISIS capabilities and an eventual ground assault.
The airstrikes can begin "pretty much straight away" after the vote passes, he said.
In his rebuttal to Cameron, Opposition leader Jeremy Corbyn called the Syria decision "one with potentially far-reaching consequences for us all, here in Britain, people in Syria and those in Middle East."
Corbyn called for Cameron to explain "how British bombing in Syria will contribute to a comprehensive, negotiated, political settlement of the Syrian war."
After the vote, Corbyn tweeted that Cameron pushed for the Parliament vote after he saw opposition in the country was growing. Corbyn said a diplomatic settlement on Syria should be the goal.
Britain's Parliament voted in 2013 against UK military action in Syria. Lawmakers in the House of Commons rebuffed Cameron's call for a strong response to allegations the Syrian government had used chemical weapons in the civil war. Parliamentary authorization has only been given for UK military action in neighboring Iraq as part of the international coalition against ISIS.