Francis non papal message to Macri: 'a simple matter of protocol'
Thursday, December 3rd 2015 - 07:24 UTC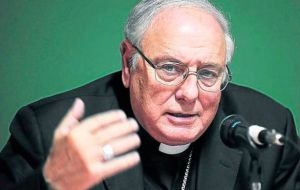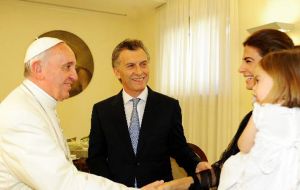 How come the Argentine born pope Francis did not send a congratulation telegram, or formal message to president elect Mauricio Macri on his victory, has been an ongoing question. But Vatican sources pointed out there was no special reason for that attitude, but merely "a simple matter of protocol".
According to the Buenos Aires media, there is no tradition of best wishes to the newly elected heads of state, and in fact no Argentine president elect has ever received a 'papal phone call'.
"The Pope following the elections held in different countries does not take sides in no case, and tradition indicates there is no such thing as messages or telegrams", Monsignor Guillermo Karcher from the Vatican State Secretary office and ceremonial officer said.
"The Holy See protocol only contemplates that for the taking office ceremony of the incoming president, the Holy Father names an extraordinary envoy to represent him" added the Vatican official and close associate of the pope. He regretted that erred interpretations of Vatican protocol had surfaced in Argentina.
However the president of Argentina's Episcopacy, Monsignor Jose Maria Arancedo, did send a letter to president elect Macri wishing "God illuminates and gives you fortitude in the delicate mission of guiding the fatherland and the integral development of all citizens, particularly the weakest".
It must be said that in the same way current president Cristina Fernandez met with the Pope several times in the Vatican and likewise when he visited countries in the region (Brazil and Paraguay), former Buenos Aires City mayor and family did visit Bergoglio in Rome and have a close relation.