Macri names ambassadors to Washington and Montevideo
Thursday, December 3rd 2015 - 08:11 UTC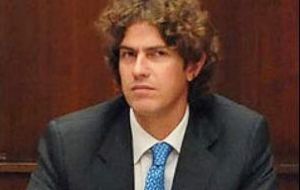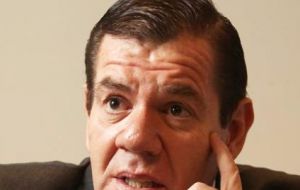 President-elect Mauricio Macri named ambassador to Washington and Montevideo. Lawmaker Martín Lousteau will be Argentina's next ambassador in the US. He will replace Cecilia Nahón, who submitted her resignation on Monday. The appointment was decided after a meeting Lousteau held with the new cabinet chief Marcos Peña and the future Foreign Affairs Minister Susana Malcorra, a Let's Change statement affirmed.
The text added "Lousteau, who will turn 45 years next Tuesday, is a national lawmaker and has worked as minister of Production in the province of Buenos Aires, president of Banco Provincia, Central Bank adviser and Economy Minister of the nation between 2007 and 2008."
"He earned a Bachelor's Degree in Economy, graduating at Saint Andrews University with Suma Cum Laude honors, and has a Master in Economic Sciences from the London School of Economics and Political Sciences", it added.
The statement informed "The World Economic Forum chose Lousteau as Young Global Leader in 2008 and in 2012 he was selected World Fellow by Yale University."
On Tuesday, Macri and Lousteau held a private meeting at the Emperador hotel in Buenos Aires, where they talked about the possibility of "working together in the future."
In related news it was announced Buenos Aires City Security minister Guillermo Montenegro will become Argentina's next ambassador in Montevideo, Uruguay.
"I feel very happy with this challenge, trust deposited on me by president Mauricio Macri is very important", said Montenegro Wednesday afternoon at the City's government offices.
"We need to rebuild relations with Uruguay and the rest of countries in the region", said the next ambassador who announced he was looking forward to a Macri visit to Montevideo.
Montenegro was born in Mar del Plata in 1962 and is an attorney from Buenos Aires University Law School. He has been head of Justice and Security with the Buenos Aires city government since 2007 and during the eight years of Macri as the city's mayor.
Previously he was a member of Argentina's Judiciary: in 2004 he was named Federal Judge and before that he was a federal prosecutor. He's passionate over sports and played rugby in Argentina's premier league with Liceo Naval club.
Montenegro will have a tough job in Montevideo following twelve years of confrontations between the neighboring countries, given the Kirchner administrations attitude towards Uruguay restricting trade and tourism, obstructing navigation along the River Plate canals and clashing over the construction of a much questioned pulp mill along the shared Uruguay river, alleging environmental hazards.
The dispute was taken by Argentina to the International Court of Justice in The Hague, which helped to ease tensions since the ruling gave both sides, mainly Uruguay, support to their arguments, but the plant was not moved or closed down as the Kirchners demanded.