Agriculture can boost production by 40%/50% with measures announced by Macri's team
Friday, December 4th 2015 - 05:07 UTC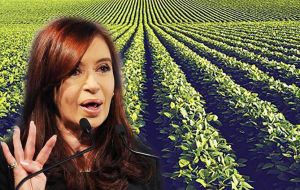 Gustavo Grobocopatel, head of the agro-business Grobo group anticipated that with the measures announced by the team of president elect Mauricio Macri and to be implemented from next 10 December, Argentina's grains and oilseed crop "it going to increase by 40% to 50%", meaning dollars for industry, jobs and services.

The head of the group or King-soy in Argentina said that the "drop in export levies is important and symbolic, but still is not the panacea, we will have to wait and see how levies (35%) on soybeans will be implemented"

The agro-business Grobo group is an Argentina multinational which trades agriculture commodities and grows mainly soybeans not only in Argentina, but also in Brazil, Paraguay, Colombia and until recently in Uruguay.

Grobocopatel added that in effect Argentine farmers are hoarding soybeans, "not for speculation but as a cash reserve, that is how he has been forced to manage his finances. Since we still have two to three months before the next crop it's only natural farmers still have 20% to 30% of the last crop, to keep living, and selling as needed".

"No matter the value of the dollar or levies, farmers will sell their soybeans they are holding on to, because otherwise they won't have money to live", underlined Grobocopatel.

He added that the sale of the remnants of the last soy crop "won't increase significantly the central bank international reserves, it will only help to reach the next crop or until there is a fresh influx of dollars from another source".

The agro-business leader pointed out that with the Kirchner couple administrations, "the camp had a rough time and so did the rest of society. We had a spectacular lost chance which could have meant an extra 15 billion dollars per year, with more international reserves for the central bank and less imports' restrictions for industry".

"We should have been the great winners these last five, six years, but we chose to self inflict harm that was unnecessary" concluded Grobocopatel.