Dragui's fresh Euro stimulus measures don't convince markets
Friday, December 4th 2015 - 07:25 UTC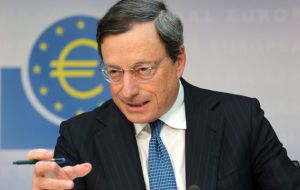 The European Central Bank announced on Thursday fresh stimulus measures in a bid to boost inflation and the Euro zone's recovery but the market response reflected disappointment. Mario Dragui said the bank was extending the quantitative easing program by six months, March 2017, or beyond if necessary, but at the current rate of 60 billion Euros a month.
The scheme is to be enlarged to include the purchase of municipal and regional bonds. Earlier the ECB announced that the main interest rates would remain unchanged at 0.05% for main refinancing operations, and 0.3% on the marginal lending facility.
But the main bank deposit rate has been cut further into negative territory, from -0.2 to -0.3 percent, charging banks more for parking cash with the central bank in a bid to boost lending.
"Today's decisions also reinforce the momentum of the euro area's economic recovery. The Governing Council will closely monitor the evolution in the outlook of price stability and if warranted is willing and able to act by using all the instruments available within its mandate in order to maintain an appropriate degree of monetary accommodation," Dragui said at the press conference.
But the ECB stimulus package expectation was considered disappointing by investors. Investors were disappointed. They had anticipated a 25% increase in asset buys, and others wanted a bolder deposit rate cut.
European chief economist at Capital Economics, Jonathan Loynes argued that "In short, the ECB has comprehensively failed to live up to its own hype and markets and forecasters will take future communications from Mr. Draghi and colleagues with a corresponding bucket of salt".
The Euro jumped over three percent at one stage and bond yields surged.
The ECB wants to boost inflation, but there are warnings that the market reaction may tighten financial conditions and make it even harder to generate.
Draghi told the news conference that inflation forecasts were being revised downwards: to 1.0% from 1.1% in 2016, and to 1.6% from 1.7% in 2017.
Some analysts had been expecting more measures as inflation remains stubbornly below the ECB's target of just under 2%. The Euro has weakened nearly seven percent against the dollar since the bank's last meeting in October.
Draghi acknowledged there were continued downside risks to the inflation outlook, and called on Euro-zone member states to do more to improve the economy.