Uruguay's former football chief Bauza, only Conmebol member not indicted
Friday, December 4th 2015 - 07:49 UTC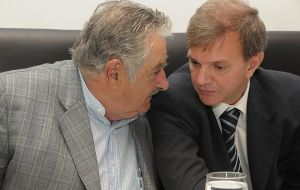 Of the ten presidents from South America's football confederation, Conmebol, during the period under investigation by the FBI, only two had not been indicted until Thursday: Uruguay's Sebastian Bauza and Ecuador's Luis Chriboga. However US Attorney General Loretta Lynch included Chriboga in the latest list of allegedly 16 indictments.
The original FBI investigation discovered that Uruguay's Eugenio Figueredo, arrested last May, Argentina's Julio Grondona and Brazil's Jose Maria Marin had each received 3 million dollars for facilitating television rights.
Another Conmebol chief (allegedly Nicolas Leoz from Paraguay) received half a million dollars while other seven presidents from the confederation were each paid 1.5m dollars. Which means there were only three 'clean' president, and Uruguay's Bauzá insisted all along he received no payment and never participated in the sharing schemes.
"I was invited several times to travel to the US where the contracts were going to be negotiated but I never wanted to go", admits Bauza, who is a dentist by training but runs a confectionary and cakes family business in Montevideo.
"I never attended any of those negotiations, and never wanted to, because I thought it was not the correct way of managing the television rights. While I was president of AUF (Uruguay's football association) we handed the local television bid to a third party so it was sufficiently transparent for all out local clubs to have access. I avoided going to the US because I was not a member of Conmebol Executive Council".
Bauzá admits there were dealings in Conmebol he never quite understood, "for one Nicolas Leoz then head of the organization was the only signature in checks, in AUF, three people have to sign them; likewise when sanctioning teams involved in Libertadores or South American Cups, it was the same presidents that agreed among them. Now there's a tribunal and a disciplinary code to abide, whether you like it or not. Having access to contracts or balance sheets was also very hard".
Further on Bauzá said he was feeling "very calm" about the whole issue.
"I was summoned to court (in Montevideo), I showed all the numbers, made my statements and the magistrate told me I was not indicted but rather a witness".
Not surprisingly Bauza was finally forced to resign from his top job at AUF, under strong pressure none less than from then Uruguayan president Jose Mujica.
In effect, Bauza wanted the local television contracts to be auctioned but Mujica insisted they be directly awarded to a private agent, a very influential dealer in the sale of football players, and at one time a business associate of Eugenio Figueredo arrested in May, currently in prison trying to avoid extradition to United States.
Bauzá was clearly overwhelmed by influence and power and quit. Nevertheless they tried to involve him in Conmebol's racketing, in Uruguayan courts, but so far to no avail.