'A great number of US corporations will be reinvesting in Argentina', forecasts ambassador Mamet
Monday, December 7th 2015 - 07:03 UTC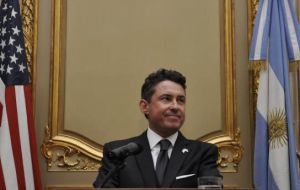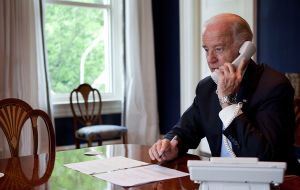 United States ambassador to Argentina, Noah Mamet, in a lengthy interview with the La Nacion daily, praised the election of Mauricio Macri and figures of his cabinet and stressed that the US government was anxious to begin working together.
"We're pleased with the talents brought together for his Cabinet and visible in the rest of his advisers," the US ambassador to Buenos Aires said.
"We are seeking opportunities to work together on several issues: science, technology, energy — especially renewable energy — and education," he added.
Mamet claimed that all of the 500 US companies that are currently in the country, such as Ford, Cargill, Citibank and General Electric, were optimistic about the future business climate after Macri's win.
"I think there will be a great number of companies that will be reinvesting in Argentina because they believe in its future, and that is a great sign ... They will want to work with the government, not only federal but also provincial governments," he said.
When asked if the Obama administration was willing to help Argentina gain access to financing, Mamet said that the US would have to wait for the government's new agenda and future plans first — but he emphasized there was a positive and constructive outlook.
In another segment of the interview, Mamet said that Macri's election would have a positive impact on Venezuela, as Argentina is a leader in the region. But he emphasized they would have to evaluate how the Venezuelan elections play out before determining what type of impact the president elect would have.
The current government of president Cristina Fernandez and the Victory Front (FpV) ruling party fostered a close alliance with Venezuela during its 12 years in power, but president-elect Macri announced he would ask Mercosur to apply the 'democratic clause' and suspend Venezuela from the bloc.
Mamet praised the naming of Argentine ambassador to the US, Martín Lousteau, and the new Foreign Minister Susana Malcorra, both with excellent references and they would do "a great job."
On Saturday, the White House website revealed that US Vice-President Joe Biden had called president-elect Macri to congratulate him over the election win. During the telephone conversation, Biden and Macri promised to improve relations between the two countries.
"The two leaders agreed to deepen relations between the US and Argentina, as they consider it essential in constructing a western hemisphere that is prosperous, democratic and safe," stated the White House. They exchanged perspectives about how to improve cooperation on "bilateral and regional issues."