Argentina talks to US Treasury Secretary; lifting dollar clamp depends on level of reserves
Monday, December 7th 2015 - 08:44 UTC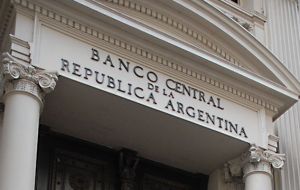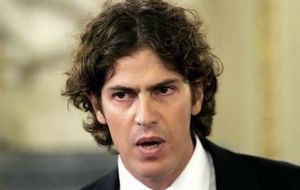 Argentina's incoming Finance minister Alfonso Prat-Gay spoke with the United States Treasury Secretary Jack Lew to discuss economic plans to achieve sustained economic growth. The minister also announced in a long interview with Buenos Aires main dailies that lifting the dollar 'clamp' as promised by president-elect Mauricio Macri, will much depend on the level of international reserves Argentina can count with.
Prat-Gay, one of the members of the six-man strong economic cabinet that Macri has established, spoke with Lew by phone on Friday and later Prat-Gay's associates expressed that the meeting had been 'very productive' and that it was just the first step in a broader campaign to increase cooperation and to "normalize" relations between Buenos Aires and Washington in this arena.
The US Treasury is reportedly keen to establish a productive relationship with Macri's economic team.
The US secretary of the Treasury is analogous to the position of Finance minister and plays a decisive role in advising the US president on economic policy matters at both the domestic and international level.
The Macri administration is seeking both financing to shore up depleted Central Bank reserves, international investment in major infrastructure works and gain access to international capital markets. To do so, it will have to find a solution to the ongoing holdout judicial saga. Economist and lawmaker Martín Lousteau, Macri's pick for the Argentine Embassy in Washington, will be part of that effort as well.
Lousteau will be replacing former ambassador Ceilia Nahon, who concluded her mandate last Monday after nearly three years on the job. Nahón is also an economist, with close ties to outgoing Economy Minister Axel Kicillof, and one of her primary roles was to lobby the US government as part of Argentina's ongoing legal battles with holdout creditors.
Prat-Gay also announced that restrictions on the US dollar imposed by the outgoing government of president Cristina Fernandez will be lifted, as promised during the electoral campaign, as soon as possible, but the central bank must have solid reserves before any move on that direction.
Hopefully Argentine farmers will sell all the grains and oilseeds they have been hoarding waiting for better times, which are estimated could reach some eight billion dollars. To this must be added the new atmosphere and confidence which the victory of business friendly Macri has inspired on markets and allegedly a strong boost, which Prat-Gay said "we expect in a very short time, with God's blessing and before taking office, so it can be announced on 10 December".
However the incoming minister is aware that the situation remains fragile and so he would not advance any dates for lifting the clamp and also stated that the move won't be isolated since reaching some understanding on prices and salaries is crucial to combat inflation (running in the twenties).
"For this we are hoping to have some results in the next three months, before the next round of salaries and working conditions takes off in mid March" said Prat-Gay.