Brazil highest court freezes special impeachment committee; gives Rousseff a week's break
Wednesday, December 9th 2015 - 21:03 UTC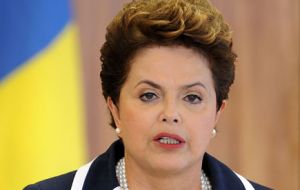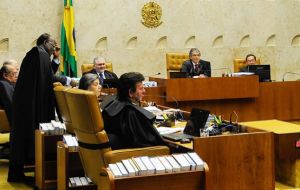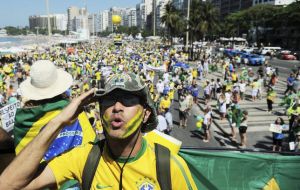 Brazilian President Dilma Rousseff was granted breathing space by the Supreme Court in her fight against impeachment, when late Tuesday it imposed a week-long freeze on the special commission formed to recommend Congress whether Rousseff should be removed from office.
The suspension was made in response to an appeal from Rousseff allies (Brazilian Communist party) arguing the opposition had illegally insisted on secret votes -- not the usual open ballots -- while picking who would sit on the 65-member congressional commission.
The goal, according to the opposition, was to stack the body with anti-Rousseff deputies. Their recommendation would not be binding, but would set the tone for votes in the lower house and Senate on the president's fate.
The Supreme Court will rule next Wednesday and is not expected to stop the whole impeachment process. However, even a delay was good news for Rousseff, who a year into her second term is fighting for her political life.
The president is accused of illegal budgeting maneuvers, but says the practices were long accepted by previous governments. She calls the attempt to bring her down a "coup."
Nationwide opposition rallies are planned Sunday and on Tuesday Rousseff supporters marched in central Rio de Janeiro, which will host the 2016 Olympics.
Political uncertainty is also adding to the economic mess, with GDP down 4.5 percent in the third quarter year-on-year, and the national currency down a third against the dollar this year. A vast corruption scandal centered on state oil giant Petrobras has also put a hole in investor confidence.
Political analyst Michael Mohallen, at the Getulio Vargas Foundation in Rio de Janeiro, said the Supreme Court had done the right thing by suspending the impeachment campaign, but that in Brazil's tinderbox politics it will have to be careful.
"The problem knows how the court will be involved in this process. It will be the referee throughout, so it will have to be very measured in accepting or rejecting appeals. Every time a group of deputies feels it has lost it will appeal," he said.
"So far the court has reacted well. It has had four appeals since the start of the procedure and accepted only one," he said.
For Rousseff supporters, the entire impeachment case lacks credibility. On Tuesday, 16 of the country's 27 state governors declared there was no constitutional foundation. But with only 10% popularity ratings, Rousseff has little political muscle and the impeachment push in part reflects the country's anger at the multiple crises.