Falklands' strict work safety measures for 2016 Illex fishery in Islands' waters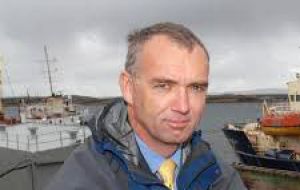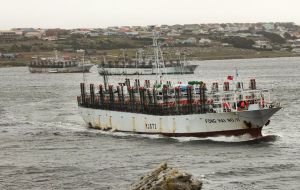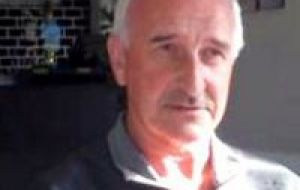 Measures that will sometimes exceed flag state requirements, in order to improve the safety of fisherman working on ships in the Illex fishery in Falklands waters have been agreed by the Falkland Islands Government.
Director of Natural Resources John Barton told Penguin News: "As an example of measures exceeding flag state requirements it has been specified that all vessels will have survival suits for all crew; which has not previously been the case on most jigging vessels."
In Executive Council last week measures were agreed that will become enforceable licence conditions, and will be monitored by enhanced checks on vessels collecting licenses.
"Safety check lists will be of FIG origin, and in some cases may exceed flag state regulations," stated Member of Legislative Assembly (MLA) Mike Summers.
He added: "This is an important industry to the Falklands economy, but that is no reason not to require foreign flagged vessels working here to meet suitable safety and employment standards for their crews."
Vessels have always had to undergo safety inspections, Mr. Barton told Penguin News, "but whereas in some cases they may have had time to rectify some defects, a tougher line will be taken to ensure vessels fully satisfy the requirements before licensing. There has been no compromise on items such as life jackets and life rafts being in date and of sufficient quantity for all crew."
Barton said license conditions will be expanded to require:
- Fishing operations, crew management and relations are conducted in accordance with the provisions of the Work in Fishing Convention;
- Provision of food, water and accommodation compatible with the Work in Fishing Convention;
-Availability of a Fisher's Work Agreement in accordance with the Work in Fishing Convention;
The Fisher's Work Agreement must set out the procedure and contractual terms for any crewman who wishes to terminate his contract of employment and be repatriated.
Barton explained that "the provisions of the Work in Fishing Convention, if fully observed, should overcome many of the issues we see in the Illex fishery. The Convention has not entered into force but we are seeking to reflect some key provisions in licence conditions."
He added the UK and the Falklands has still to consider this convention.
Barton explained that in most cases vessels, "operate to acceptable standards with crew who return year after year. The measures being implemented for 2016 are intended to catch those who fall short and hopefully to prevent a repeat of some of the incidents, and to provide for tougher action to be taken if such incidents do occur."
Some crew members from Illex fishing vessels have jumped overboard when ships have come to Stanley Harbour for licensing; some of the men have survived the severe sea conditions and reached shore, but others have drowned. It has become an annual occurrence.
The licence period for Illex starts on February 15, although the squid do not always arrive until later in February or even into March.
Asked about recent talks between the Falklands Government and fishing associations in Taiwan and Korea Barton said they had, "been in contact with the Taiwanese Squid Fishery Association and the Korea Overseas Fishery Association who represent the fishing companies who fish here.
"We have sent them information on vessel equipment and information on crew care and welfare. Most vessels do operate to reasonable standards but we still have too many unacceptable incidents, some of which have ended in fatalities of fishermen. The responses from the associations indicate that they are taking these issues seriously and will translate and communicate all the information to their membership."
The Department of Natural Resources provided a presentation on the issues which was given by a member of the Falklands fishing industry on a visit to Taiwan and Korea.
Barton said: "Feedback indicates that there was a good turnout of companies and boat owners to hear the presentation and that there was serious discussion on the issues.
The associations reinforced the message being given, and indicate that they will provide briefings for Captains and senior officers. In some cases the message was also reinforced by government officials who emphasised that they did not want to see their fishing vessels attracting such negative headlines." (PN).-