Vice-president Temer virtually announces split of Brazil's coalition government
Wednesday, December 9th 2015 - 09:18 UTC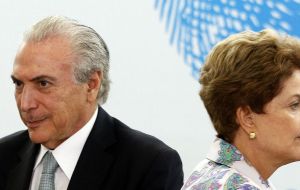 The Brazilian Congress set in motion on Tuesday a complex process that will weigh the possible impeachment of President Dilma Rousseff, but even more significant was a letter made public by vice president Michel Temer, which clearly indicates a rift and a possible distancing of the senior partner in the ruling coalition.

The first step toward a trial of the president was taken by the lower house, with the election of the first participants in a 65-member panel that will decide whether to move forward with impeachment.

The first round was unfavorable for the president, since two lists of lawmakers were presented and, by a vote of 229 for and 199 against, the plenary session went for the one proposed by the opposition, which will hold 39 seats on the commission.

Rousseff is accused of resorting to irregular accounting maneuvers to disguise the size of the budget deficit.

But Tuesday began with another bombshell: the release of a letter from Temer to Rousseff full of complaints and evidence of a rift between them. Temer says that Rousseff "never" confided in him nor in his PMDB party, the country's leading political movement and the chief support of the coalition government.

Temer, who would become president if Rousseff were impeached and removed, says he spent the four years of the incumbent's first term in office as "a vice-presidential decoration" and that he was "only" called upon to settle problems with the PMBD.

He says he exercises his position with "the institutional loyalty" demanded by the constitution and with a "natural discretion," but that he has always understood the "absolute distrust" that both Rousseff and those around her had in him and in the PMDB.

Over the past week, faced with the possibility of being submitted to a political trial, Rousseff praised Temer and the PMDB, saying she always placed her most "absolute trust" in them.

Nonetheless, Temer says that "never" were either he or the PMDB "invited to discuss economic or political solutions for the country," because she had no confidence in them.

The vice president also says that "the PMDB knows the government tries to divide it, since it has tried to do so unsuccessfully in the past," and announces that he will maintain a "prudent silence" about the possible impeachment of Rousseff "in order to seek party unity."

The letter ends with a final paragraph in which Temer suggests that his relations with Rousseff are almost over.

"Finally, I now know that today you have no faith either in me or in the PMDB, nor will you tomorrow. I'm sorry, but that is my conviction," ends the letter, about which the administration on Tuesday said nothing.