Paris climate agreement triggers praise for French diplomacy and minister Fabius
Tuesday, December 15th 2015 - 06:23 UTC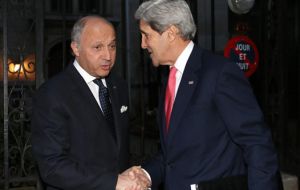 France seems to have achieved an unachievable triumph: uniting the world to seal a global climate pact. The Paris climate agreement, adopted on Saturday, was the culmination of more than a year of intense diplomatic efforts by France. Delegates and foreign dignitaries cheered Foreign Minister Laurent Fabius, the host of the two-week talks, and gave him a standing ovation.
"It's rare in life to be able to move things forward at the planet level," Fabius said, visibly moved after coming out of the plenary room.
Foreign officials highlighted Fabius' role in the success of the talks, heaping praise on him and France, which has a smaller diplomatic corps than the US and China.
"You have done a superb job as everybody has said," US Secretary of State John Kerry told Fabius expressing the Obama administration's "deepest gratitude to France."
EU climate chief Arias Canete said "France has united the world. This deal embodies the strength of the French nation." UN Secretary-General Ban Ki-Moon praised Fabius' "leadership."
Maldives Foreign Minister Thoriq Ibrahim, who chairs the Alliance of Small Island States, said the French made several smart moves, including having world leaders come in at the beginning of the talks, not at the end like in the chaotic Copenhagen talks.
The 2009 conference in Denmark, which failed to deliver a climate deal, was on the minds of all negotiators as the worst case scenario. "From the very beginning the French were conscious of the Copenhagen failure," Ibrahim said.
In a unique gathering, 151 heads of state headed to Paris to give a political push on the first day of the conference — just over two weeks after attacks claimed by Islamic State killed 130 people in Paris.
For more than a year, France had used its broad network of embassies — the third largest in the world — to work with governments abroad and keep them informed of the evolution of the negotiations.
French President François Hollande became committed to a cause he once barely gave importance to: he had almost ignored environmental issues during his electoral campaign four years ago. But at every meeting with a foreign leader and during every visit abroad prior to the talks, Hollande remembered to mention the climate conference even when it was not front-page news.
During his visit to China last month, both countries released a strong joint agreement on climate they promoted as a signal to the world. On Friday and Saturday, Hollande called several world leaders to help unlock the final sticking points.
The diplomatic success is a welcome victory for the unpopular Socialist government, as it faced a tough electoral challenge from the far right and conservatives on Sunday. And it is a boost for France's global image as the country's economic weight has shrunk in recent years.