Spain's Rajoy expected to win next Sunday's election but without a majority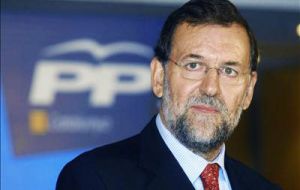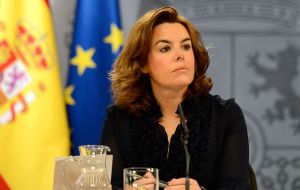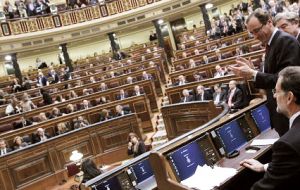 The latest surveys on the Spanish legislative elections to be held next Sunday, predict a victory for the ruling center-right People's Party, or PP, but without an absolute majority, so the party will have to form a coalition to establish a government.
The polls are predicting that PP will acquire less than 30%, followed by the Spanish Socialist Workers' Party, or PSOE, then the liberal Citizens and Podemos (Yes We Can), with slight differences between them, according to several Spanish media outlets on Monday.
Spanish law allows the publication of opinion polls until Monday, giving great importance to these surveys five days ahead of the campaigns, in terms of the high numbers of people who have not made up their minds.
According to the survey published by El Pais newspaper, PP are expected to come in at first place with 25.3% of votes (105-112 seats), while PSOE will get 21% (85-94 seats). The absolute majority of the Spanish parliament is 176 seats from a total of 350 deputies.
Podemos will get 19.1% (55-64 seats), while the Citizens will win 18.2% (53-67 members).
El Mundo newspaper's poll forecasts that PP will win 27.2% (114-119 members), ahead of PSOE which will get 20.3% (76-81 seats).
The Citizens will come in the third place with 19.6% (62-69 members), followed by Podemos with 18.4% (56-60 deputies).
In Spain there is no history and no prospects for a government of a "grand coalition" between PP and PSOE, so there is speculation that coalitions will be formed with other blocs.
An important fact is that these surveys have been conducted after the electoral campaign had already started on Dec. 4, which will also reflect people's views after the debate held on Dec. 7 between the four major parties.
The debate held on that day included PSOE candidate Pedro Sanchez, Citizens candidate Albert Rivera and Podemos candidate Pablo Iglesias, as well as PP candidate and vice-president Soraya Saenz de Santamaria, after Prime Minister Mariano Rajoy was unable to attend because of his busy schedule.
This debate was criticized by other political groups, who argue that both sides are trying to extend the bipartisanship which has dominated Spain since democracy returned to the country in 1977.