Expect a much smaller and more profitable Petrobras, in four years, says CEO Bendini
Wednesday, December 16th 2015 - 07:26 UTC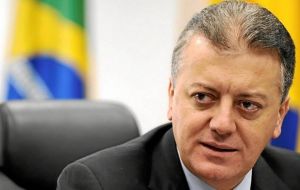 Petrobras, Brazil's largest corporation, carried out asset sales and underwent a restructuring this year in response to a severe financial crisis, emerging smaller but with a more profitable and productive future ahead, CEO Aldemir Bendini said Tuesday.
"In about four years, you can expect a company with a more positive outlook. It'll be smaller, much smaller than what it was, but more profitable and with greater operational capabilities," the CEO said during a breakfast with reporters who cover the energy industry.
The head of the company that accounts for nearly 10% of Brazil's GDP said the $15 billion divestment plan announced earlier this year would be completed in 2016 with the sale of additional assets.
"The goal was to make this year more about identifying the assets we were going to sell. We did not have great expectations about divestments this year. The sales will be concentrated in 2016. But we managed to sell the Gaspetro subsidiary," Bendini said.
In October, the Petrobras board of directors agreed to sell a 49% stake in Gaspetro, a subsidiary that held stakes in several regional natural gas companies, to Japan's Mitsui & Co. Ltd. for 1.9 billion reais (about $500 million).
"When everybody thought that we wouldn't be able to sell it without transferring control, we achieved a result that the market was not expecting, nearly double the estimated value," the CEO said.
Bendini also commented on oil a price, saying that crude was well below where the company projected.
"We expected to work with oil at $60 per barrel this year and the reality was different. We did a hypothetical exercise on what the company would face under the worst conditions, with oil at $40 and the exchange rate at four reais per dollar, and that's what we ended up dealing with," the CEO said.
Petrobras had to implement an emergency business plan to deal with the new conditions in the oil market and simultaneously generate investment funds under more difficult conditions, Bendini said.
Petrobras, which lost access to capital markets financing amid a massive corruption scandal, has written off nearly $2 billion in corruption-related losses from the period between 2004 and 2014.