A good one for Brazil: trade surplus has reached US$15.8bn
Friday, December 18th 2015 - 07:44 UTC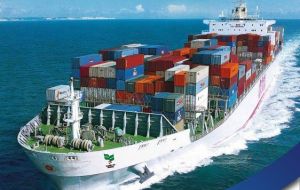 Brazil accumulated a trade surplus of US$15.8 billion between January and the second week of December, its biggest for that period since posting a US$17.15 billion trade surplus for the first 11 months of 2012, according to Development, Industry and Foreign Trade Ministry figures.
The result contrasts sharply with the US$4.35 billion trade deficit Brazil posted for January-November 2014.
Exports reached US$181.647bn dollars and imports US$166.837bn in the eleven and a half months of 2015, with the surplus of US$15.8bn. This represents average exports of 766.4 million dollars, 14.6% below the 2014 average (US$897.1m)
Imports were also below last year's average with a daily sum of US$699.7m dollars, or 23.3% (US$911.9m). Overall trade reaches US$347.485bn, with a daily turnover of US$ 1.466m, which is 19% below the 2014 average of US$ 1.809m.
The lesser export figures are due to lower prices for commodities such as iron ore, while imports declination is attributed to Real's sharp depreciation against the dollar this year and a recession-triggered drop in demand for foreign products.
Brazil's economy fell deeper into recession in the third quarter, with government figures released showing Latin America's largest economy shrank a whopping 4.5% compared to the same three-month period of 2014.
Brazil posted a trade surplus of US$1.20 billion in November, compared with a trade deficit of US$2.35 billion in the same month of 2014.
The trade surplus of US$ 15.8 billion compares favorably with a trade deficit of US$3.96 billion in 2014, the biggest shortfall on its trade balance since 1998.