The Islands are 'Falklands', according to Aerolineas Argentinas magazine 'Alta'
Friday, December 18th 2015 - 20:22 UTC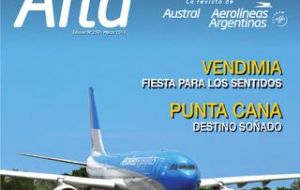 Aerolínas Argentinas magazine "Alta" has committed an 'un-excusable' blooper in its English edition. In effect, in a long article from the November edition, and praising Argentina's aeronautic and space industry, available in all Aerolíneas flights the Islas Malvinas are referred to as the Falkland Islands.
The article, "Argentine satellites", is in effect a long apology of Cristina Fernandez administration efforts to promote science and technology, particularly satellites, one of which, in communications, Arsat 1 is successfully orbiting the earth.
The November edition is available in all flights of the country's flag airline and subsidiary Austral, and naming the Falklands in its English edition.
Apparently this is the second number of "Alta", and its editor, Carlos Manzi who has been running the magazine business for 23 years has been sacked. However he was fired or his contract was dropped by the former Aerolíneas CEO Mariano Recalde, a member of La Campora, the youth political movement sponsored by Cristina Fernandez and managed by her son Maximo Kirchner.
Manzi has appealed the contract and as an interesting side news, in court, it has been revealed that Argentine television show 'queens' (both critical of Cristina) Mirtha Legrand and Susana Giménez, as well as the Pope were "banned" from the magazine.
According to an open letter sent by Manzi, the ban extended to any news on the City of Buenos Aires whose mayor for the last eight years has been current president Mauricio Macri as well as accepting any publicity from the city of Tigre, ruled by Sergio Massa, another 'enemy' of Cristina Fernandez.
As to the pope the attitude changed completely after Cristina Fernandez met with Francis in the Vatican and gifted she gave him a 'mate' delicately worked in 'creole' silver.