Mercosur identifies 80 intra-trade non tariff barriers and discuss their elimination
Monday, December 21st 2015 - 06:50 UTC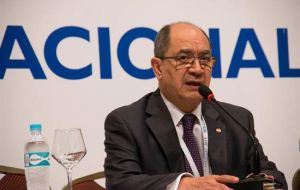 Mercosur members have identified over eighty non tariff barriers currently effective in intra-trade and have agreed on their gradual elimination, a proposal to be considered by the group's presidential summit when they meet Monday in Asuncion, Paraguay.
Rigoberto Gauto, Paraguay deputy foreign minister and who is chairing the discussions previous to the summit with his peers from Mercosur members, plus Economy and trade ministers, and central bankers said the proposal will be considered Monday but its implementation will be addressed under Uruguay's chair, that formally takes over, for the next six months, from Paraguay also on Monday.
Gauto added that Paraguay proposed that the list of identified barriers should not be permanent or definitive, but rather open and flexible, so that other measures identified by member countries, can be discussed and eventually incorporated.
The Paraguayan official did not reveal more details but said that a new chapter for Mercosur is opening and according to foreign minister Eladio Loizaga, "Paraguay wants to return to the origins of Mercosur, which means a free trade and transit zone, so that members in equal conditions can develop and have access to the regional market.
"As we can find in our Paraguay (and Uruguay) supermarkets all brands and produce from the region and our partners, we want Paraguay to have the same access and facilities", underlined Gauto.
The deputy minister revealed that most barriers are imposed at border crossings and also (Argentine) measures which strongly condition fluvial transport, and are nerve breaking for landlocked Paraguay.
"Our fluvial fleet is the largest in the region, and third in the world, and we are holding discussions with our partners and neighbors on the issue, and I might add they are quite advanced", said Gauto.
As to the sworn statements (DJAI) which Argentina demanded from all its importers to allow purchases overseas, Gauto recalled that several countries questioned (successfully) the scheme before WTO, and Argentina has until the end of the month to make official its elimination, "however we have not seen it published in the official gazette".