Mercosur summit agenda includes trade, energy, human rights; Venezuela's Maduro absent
Monday, December 21st 2015 - 07:00 UTC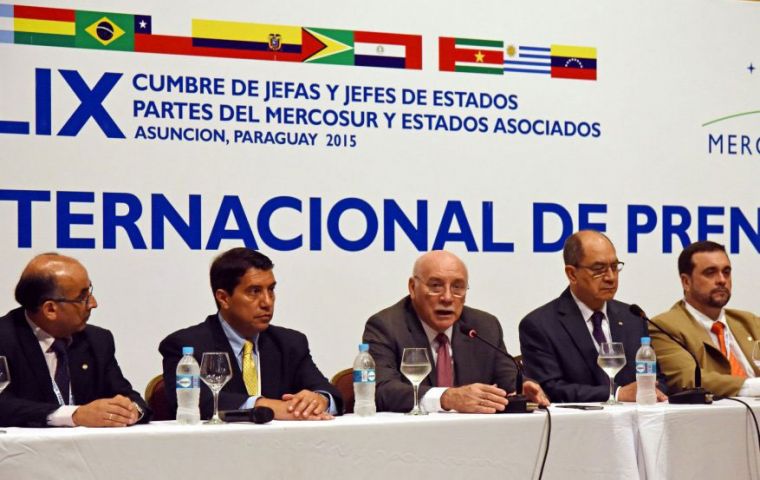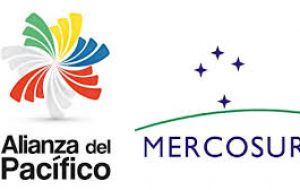 Paraguay foreign minister Eladio Loizaga advanced some of the issues that will addressed on Monday's Mercosur presidential summit, when all of the members of the group's heads of state have confirmed their attendance, except Venezuela's Nicolas Maduro, plus leaders from associate members.
Among the issues mentioned are trade, human rights, EU negotiations, Pacific Alliance and also energy integration, a very sensitive issues for Paraguay which has a huge surplus but is tied to supply and price conditions imposed by neighbors Argentina and Brazil.
"We need to work together in several of these aspects, we need to start a process of energy action and integration. We need to reform some of Mercosur statutes, return to the roots. All ministers put out their points of view and we agreed that team work is needed", said Loizaga.
Contacts and a possible institutional approach to the Pacific Alliance is also in the agenda, said Loizaga, because "we need to trade with all the world and we can't be fearful of those successful experiments".
The minister also underlined the foundations of institutions and democracy in the Mercosur group, based on the recent results of national elections in Argentina and Venezuela and municipal in Paraguay.
"They have all taken place in full transparency", said Loizaga.
Regarding human rights, Loizaga revealed that during the summit's preparatory discussions, "we all mentioned the accords on the issue and the unrestricted compliance with humanitarian law". The minister added that Mercosur is considering setting up a human rights office that will monitor and 'measure' the abidance of human rights, "much in line with the UN and other organizations schemes".
Likewise Loizaga mentioned Mercosur full support to the peace process in Colombia. "We are ready to help, as we have been all along".
Finally the minister confirmed that the Venezuelan government communicated Sunday late evening that president Nicolas Maduro would not be attending the Mercosur summit given that he has a full agenda.