Spain's left-right draw ends two-party system and marks time of coalitions
Monday, December 21st 2015 - 07:14 UTC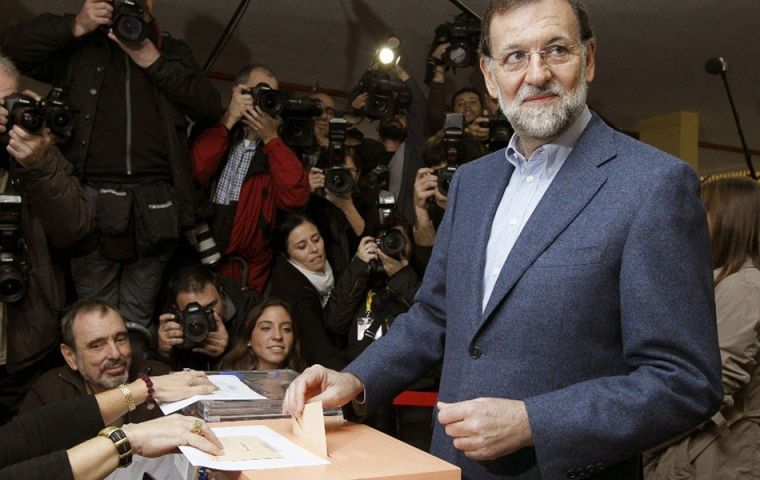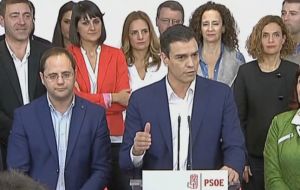 Spain is heading for a period of difficult coalition-building after Sunday's elections in which Prime Minister Mariano Rajoy's conservatives came first, but were far short of a majority and with no obvious coalition partner after the centrist Ciudadanos (Citizens) did worse than expected, finishing fourth.
Sunday's vote also marked the end of the preeminence of the two-party system in Spain which has prevailed since Spain become democratic.
With 99.6% of votes counted, Rajoy's Popular Party had 123 seats in the 350-seat national parliament, way beneath the 186-seat majority they secured in 2011.
The Socialists (PSOE), who have alternated in power with the PP for nearly four decades, were second with 90 seats, while far-left Podemos (We Can) had 69 seats — including the regional coalitions they have forged in Catalonia, Galicia and Valencia — and the centrist Ciudadanos came fourth with 40.
"We are about to begin a period that won't be easy," admitted Rajoy, who was first elected in 2011 and has earned the approval of the euro zone's most powerful country, Germany, for tightening the reins on Spain's spendthrift economy.
However, his PP did not win enough votes to form a center-right majority with Albert Rivera's Ciudadanos — whose rapid growth, especially in a regional election in their Catalan homeland in September, had promised a better result than fourth place — while a leftist coalition between the PSOE and Podemos would also fall short of a majority.
"I am going to try to form a government and I think Spain needs a stable government," the conservative prime minister told cheering PP followers in Madrid, adding: "Spain needs stability, safety, certainty and confidence."
PSOE leader Pedro Sánchez congratulated Rajoy on his victory and said the current president has the first choice to build a coalition. If not the King most probably will invite the Socialists to attempt what seems a very difficult challenge for both leaders. In effect, "PSOE is ready to debate and dialogue", he said.
Spain's parliament now looks fairly evenly divided between the center right, represented by the PP and Ciudadanos with a combined 163 seats, and the center left represented by the PSOE, Podemos and another leftist party, Izquierda Unida, with 161. The remainder of the seats are held by regional parties, who will be crucial to the process of building a coalition government.
That could result, for example, in a leftist coalition including pro-independence regional parties from Catalonia who have been promised a referendum on independence by Podemos leader Pablo Iglesias. However PSOE's Sanchez is committed to Spanish unity and has categorically ruled out a vote that could allow Catalonia to split with the rest of the country.
Spain has never had a 'grand coalition' government of right and left, like German Chancellor Angela Merkel's alliance of her own conservatives and the Social Democrats.
The new challengers, Podemos and Ciudadanos, have campaigned on a promise to end the hegemony of the corruption-tainted established parties and, in different degrees, to reverse the cutbacks that Rajoy has implemented to pull Spain out of an economic crisis that led it to seek a bailout for its banking system.
The economy is now on a path to recovery, but Sunday's election results suggest that the high unemployment rate, still 21%, is more prominent in voters' minds than economic growth.
Podemos, which grew out of popular protests against the austerity drive, was seen as the clear winner of the night, performing well above what polls had forecast. Its 37-year-old leader, political lecturer Iglesias, softened his tone during the campaign in order to appeal to moderate Socialist voters
"Pedro Sánchez's Socialist party got its worst-ever election result since democracy [returned] and the Popular Party got its worst result since 1989," a triumphant Iglesias told supporters, adding: "Today a new Spain is born."
Ciudadanos was formed in Catalonia in 2006 and launched on the national stage in 2014, later gaining huge momentum from coming second in Catalan regional election in September.
Thus pact-building talks could take weeks, and there is no clear or easy alliance in sight. Nor does the Spanish constitution set a specific deadline to form a government after the election.
Once the new parliament and senate are operational, from Jan. 13 onwards, it will be up to the King Felipe VI to put forward a candidate to be sworn in as prime minister, once alliance talks have taken place.
If this candidate fails to obtain an absolute majority, a simple majority vote is held 48 hours later. If the vote is lost again, the King has to put forward a new candidate. If no candidate secures a majority within two months of the first vote, new elections have to be held.
However, Spain's constitution does not set a deadline for the King to put forward the first candidate, meaning that much will depend on the negotiations between the different factions.
In the 11 general elections held since 1977, it never took less than a month nor more than two months to form the new government but most analysts agree it could take much longer this time and fresh elections are a distinct possibility.