Rousseff's impeachment support score almost a tie, but 60% prepared to remove speaker Cunha
Tuesday, December 22nd 2015 - 14:37 UTC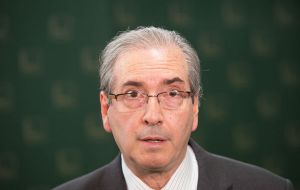 An estimated 42% of Brazilian Lower House lawmakers (513) are prepared to support the impeachment of president Dilma Rousseff, which is equivalent to 215 votes. But the impeachment motion requires at least 342 votes, two thirds of the total number, which means supporters are still 127 votes short. These numbers belong to a Congress members survey from Datafolha, which was taken between December 7 and 18.
On the other hand, 31% of deputies say they would vote against the motion to impeach President Rousseff, the equivalent of 159 guaranteed votes. This means that just 12 more votes would be required for Rousseff to reach the threshold of 171 votes necessary for her to defeat the motion.
In other words the decision thus rests with the 27% of representatives (138) who have yet to decide or who did not respond to the survey.
If the motion were approved in Congress, it would go to the Senate, where a simple majority is required for the process to continue. If this were to happen, she would be suspended.
Rousseff is still short of the votes she needs to see impeachment dropped because of opposition in her own base. The survey indicates that 26% of lawmakers from parties formally allied with the government intend to vote for impeachment. Among PMDB representatives, this figure increases to 33%.
This is the second such survey carried out by Datafolha in the lower house of Congress. In the first, taken between October 19 and 28, Rousseff's situation was slightly better.
The pro-impeachment bloc was 39%, three percentage points lower than in the latest survey, while those who said they intended to vote against had 32%, one point more. Those yet to decide or who would not declare their position stood at 29%.
Datafolha also asked deputies to state their position on the removal of the president of the lower house of Congress, Eduardo Cunha, and 60% said they would vote for his removal (compared to 35% in the previous survey). Those who said they would vote against are now just 8% (previously 13%).
The percentage of those undecided about Cunha's fate fell significantly. In the previous survey, 52% of congressmen preferred not to state their position on Cunha's eventual removal. Now, this figure stands at just 32%.
Defendants in the Federal Police's Operation Lava Jato who are cooperating with the police investigation have accused Cunha of accepting US$5 million in bribes, as well as using congressional influence to blackmail a company.