Falklands' war "ARA Santisima Trinidad" refloated in Puerto Belgrano
Wednesday, December 23rd 2015 - 08:58 UTC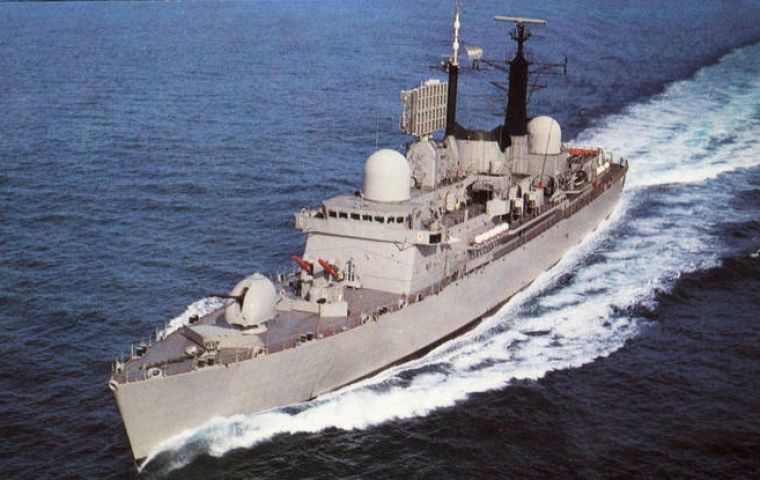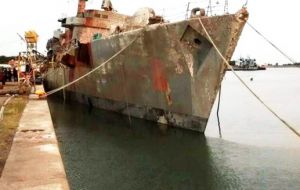 After almost three years tilted and sunken in Argentina's main naval base, Puerto Belgrano, the British built missile destroyer, 'ARA Santisima Trinidad' was finally refloated. The plan is to recondition the unit which was involved in the 1982 Falklands conflict and convert her into a museum.
Abandoned in Puerto Belgrano because of lack of maintenance and funds, during the Cristina Fernandez years, the final decision again will be conditioned on available financing, which now will depend on the new defense minister, Julio Martínez.
The destroyer started to tilt on 23 January 2013, because a "six inches pipe cracked" according to the official report of the time when Arturo Puricelli was head of the defense ministry. As a consequence of the massive leakage several compartments of the vessel were flooded and the crew had to abandon ship. The destroyer then completely tilted and sunk.
At the time the 'Santisima Trinidad' was already virtually out of service, with over forty years with the Argentine navy. The Type 42 destroyer was the only of its class built outside the UK. She has a sister ship, ARA Hercules. Construction started in 1973 but only ended in 1980.
ARA Santisima Trinidad was the leading vessel of the Argentine task force which invaded the Falklands on first April 1982 as part of the so called Rosario Operation to invade and take possession of the South Atlantic islands. She carried the first groups of divers and marines.
However by 1989 she was repeatedly cannibalized to keep sister destroyer Hercules operational, because of lack of spares, since UK refused to provide them to the Argentine navy. In 2004 it was finally decided she would no longer sail and deterioration became more evident, until the tilting incident.
In related news the Argentine navy reported that two of the six Russian built sloops, with polar capacity, recently incorporated have been stationed in Puerto Belgrano. Their names are linked to the Falklands, "Puerto Argentino" (Stanley) and "Estrecho de San Carlos" (Falklands' sound).
They will belong to the Amphibious and Logistics Command from the Surface fleet.