Chile approves free university education for 200.000 students, one of Bachelet's campaign promise
Monday, December 28th 2015 - 08:28 UTC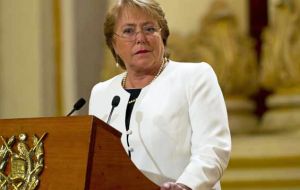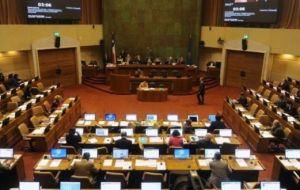 Chile's Congress has approved a law granting free university education to many of the country's students. The law was approved by both houses of the legislature last week before Christmas. The measure is a pillar of President Michelle Bachelet's reform promises and is expected to aid about 200,000 students at state universities.
Students attending private institutions are also expected to join with some conditions. Annual secondary education costs in Chile range from US$6,000 to US$15,000. Many students take out loans or mortgages to pay their tuition.
After several days of tension due to a disputed decision by the Constitutional Court, the Chilean Congress gave the green light to the Short Law of free higher education.
The country's president, Michelle Bachelet, said that common sense prevailed to approve the law granting free university education to young people from vulnerable sectors.
Bachelet said, "we have taken an important step today, a step that just a short while ago seemed impossible and unthinkable. In the upcoming year, thousands and thousands of young people can finally attend university without cost."
"In 2016, thousands of young people will be able study for free. I want to thank all parliamentarians who supported the Government's project," the president added. The head of state noted that the promises made to families and students were fulfilled.
"We have made good on the promises we made and the words we spoke to the students and their families. It has not been easy, but thankfully common sense has prevailed," she said just after she signed the decree on national television shortly after the bill was approved by both houses of Congress.
Starting this week, those from low-income families will have access to free education.
Bachelet explained that students who do not have access to free university education "will be able to obtain the existing government support: scholarships and credits, until we can expand the bill to all higher education."
With 92 votes in favor, two against and one abstention, the Chilean Congress approved the gratuity helping those financially unable to access higher education during 2016.
"The fight for free, high-quality education has been given a big boost today, but it is merely one development and not the end by any means. We will continue pushing forward in the coming years so that Chile will eventually have a truly inclusive educational system, one where an individual's intelligence and work will have the final say in their education and not the size of their family's bank account," Bachelet concluded.
Chile's Constitutional Court had recently blocked a part of Bachelet's proposal to provide free university education to half the country's poorest students.
The court ruled that portions of the plan discriminated against students by forcing them to attend specific institutions to qualify for the benefit. The government then amended the US$765 million plan, which is included in its budget for 2016.
Controversy around the bill further escalated last week with the governing coalition divided on the fact that free access to education did not apply to at least three public universities, while private ones were included.
The government had explained that the three public universities fell short of the required four years of guaranteed accreditation, but Wednesday's bill accommodates them.
"State universities are all included in the free-education bill, none will be treated differently," said the Education Minister Adriana Delpiano.
By 2018, when Bachelet's four-year mandate is set to end (in March), her government says that it will have 70% of students covered for free higher education. Finally, by 2020, the coverage for free university education is expected to become universal.