Cruise ship troubles cut South Georgia season down to size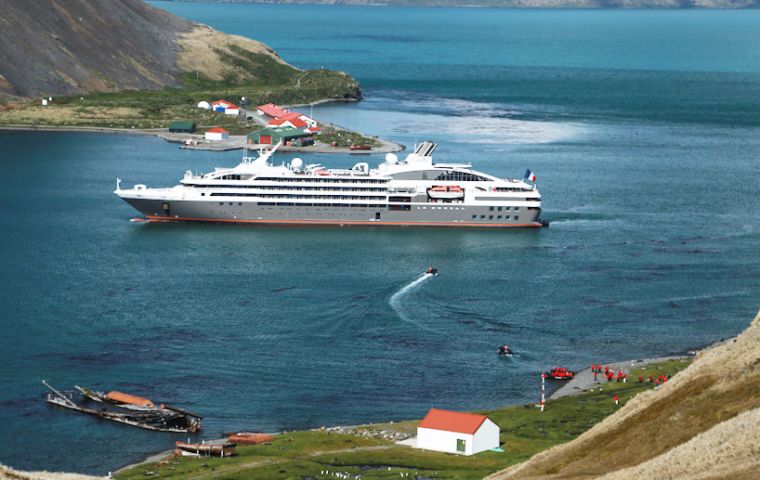 A serious fire on board a cruise ship in November led to a large-scale rescue operation off the Falkland Islands and means that three visits to South Georgia in the new year are likely to be cancelled, according to the latest South Georgia Newsletter.
Le Boreal, which usually brings 200 passengers to South Georgia each visit, has cancelled at least two trips to South Georgia following an engine room fire on 18th November when she was just north of the Falkland Islands and on her way to South Georgia. With the engines incapacitated the vessel was initially drifting and in danger of being wrecked on the nearby coast. The Master made the decision to abandon ship.
Despite very big seas and near gale force winds, all 347 passengers and crew were safely evacuated using the life rafts, ship's tenders and with assistance from several helicopters, other aircraft and ships. These included RAF Search and Rescue, Bristows and British International helicopters, HMS Clyde, an oil-rig support vessel Pacific Leader and an MOD tug. The stricken vessel's sister ship L'Austral was also quickly on the scene.
Passengers and crew were conveyed to Stanley where the local community rallied round to provide clothes and accommodation. Le Boreal was taken under tow to Mare Harbour in East Falkland where initial repair work was undertaken, before the vessel was taken under tow again for further repairs.
A week later a fur seal bite sustained by a passenger travelling on board the cruise ship MV Akademic Sergei Vavilov required the ship to sail directly back to the Falkland Islands to provide for specialized medical treatment. The passenger was airlifted to hospital in Stanley en route, courtesy of the Royal Navy and Royal Air Force.