Uruguayan officials invited to London to learn about Public-Private-Partnership
Monday, December 28th 2015 - 08:50 UTC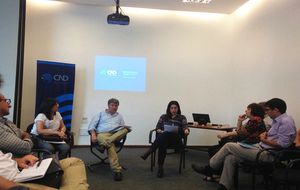 Uruguayan representatives of public entities who travelled to the United Kingdom and Brazil fed back on their experiences on Public-Private Partnership in an event held in the central office of the National Development Corporation (CND) in Montevideo.
Members of the Planning and Budget Office (OPP), the Ministry of Economy and Finance (MEF), the National Administration of Public Education (ANEP), the Uruguayan Institute of Childhood and Adolescence (INAU) and the CND took part in the dialogue.
The Uruguayan representatives who travelled to London found the experience very productive. They visited two educational institutions: Jo Richardson School and the Priority School Building Program. Jo Richardson School has functioned as a PPP for more than 4 years. The Priority School Building Program consists of building new primary and secondary level education centres, as well as refurbishing existing schools in need of repair.
Silvana Tayler, economist from the Planning and Budget Office, assured that the visit was "a very good experience", and outlined that one of the lessons she will apply in Uruguay is "the clarity, specificity and standardization of contracts between public and private bodies".
On the other hand, Gabriela Tobías, lawyer from the Ministry of Economy and Finance, pointed out that there are differences between the British Treasury and the Uruguayan Ministry; the strictness and compliance of contracts in the United Kingdom is something Uruguay should learn from.
ANEP lawyer Martín Tomé stated that "the long-term implementation is vital for the correct functioning of PPP". He believes it is important for the investor to work with apolitical offices, such as those seen in the United Kingdom. This reduces the risk of conflict between public and private sectors in the British PPP model.
Finally, ANEP Architect Mario Corrales said that, among all the aspects concerning educational building infrastructure, it is important to plan to ensure that local communities can share the facilities.