Spain's Socialists rules out any partner that supports Catalonia independence referendum
Thursday, December 31st 2015 - 08:35 UTC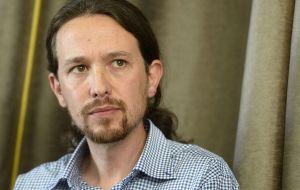 Spain's Socialist party ruled out forming a new government with any party that supported a referendum on independence in Catalonia, a stand that prolongs political uncertainty after this month's inconclusive national election.
As the four main parties in Spain vie to form a government following the election that left no party with a parliamentary majority, Catalonia, the engine of the Spanish economy and home to an entrenched independence movement, has emerged as one of the main sticking points.
Prime Minister Mariano Rajoy's People's Party (PP), which won 123 seats - far short of the 176 minimum needed to govern alone - and the Socialists, who came second, both reject any referendum in Catalonia, where separatists won a majority of seats in a regional election in September.
Leftist party Podemos, which has been cast as potential kingmaker and says Spain should be recognized as a multinational state, has said it is committed to holding a referendum if it enters government. Its strong results in the election - it won 69 seats, only 21 less than the Socialists - has led to the possibility of an alliance of leftist parties.
But Socialist leader Pedro Sanchez said Podemos leader Pablo Iglesias would have to renounce his pledge to grant a referendum if both parties were to join forces.
"We will not discuss questions about the territorial integrity of the country," Sanchez said at a news conference. "We will not form a government at any cost."
Sanchez dashed hopes of a grand coalition of the mainstream left and right last week after he said he would reject any pact that led to a new government with Rajoy or a different leader of the PP.
Without the backing of the Socialists, or at least their implicit support via abstentions, it would be impossible for the PP to form a government with a majority in parliament.
Podemos' Iglesias, who had said last week he was open to an agreement with Sanchez, said he doubted the resolve of Socialists to form an alternative government to the PP.
"(The Socialists) are determined to not understand that the unity of Spain is defended by understanding its multi-nationality," Iglesias said at a news conference.
Apart from a recognition of a multi-national Spain, Iglesias has said other conditions for joining a leftist coalition are more social policies, a new electoral law, and mechanisms to better control government.